A Commitment to Caring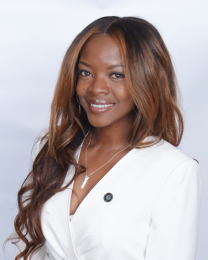 A Commitment to Caring
Shekayla Robinson's commitment to helping others is a key reason she chose to get involved with Ambit. While working for the United States Postal Service, she studied Christian counseling and sociology. "I always wanted to motivate and counsel individuals because life is what you make of it. So, I loved seeing others happy," she says. She's also one of the many Ambit consultants who began as a customer. After her divorce, she joined a friend's downline as a consultant.
Now, she's able to put her interest in helping others to work by supporting, training and leading her team. "I've learned Ambit isn't for everyone, but I'm going to keep driving the bus and picking individuals up," Shekayla says.
Success and Challenges
On the surface, Shekayla seems to have had an easy time of building her Ambit business. She's been a Top Producer, fast tracked to SC level, was named to the SC Dream Team and earned a Pure Energy Award. But appearances can be deceiving. Not only did she face the termination of a key Senior Consultant on her team, she was even homeless for a time. But she never stopped fighting.
"Yes, I cried, I was frustrated. But I didn't give up, putting God first through faith and prayer helped me tremendously." she says. "I told myself I was sowing seeds and to not stop putting the word out."
Looking Ahead
Shekayla is proud of her many accomplishments, but she's looking forward, not backward. She's planning to step up her recruiting and training efforts, taking courses to build her own expertise, hosting business mixers and more.
Her advice to new consultants seeking to emulate her success is simple. She says the most effective tool for growing a business is telling her story. "Being transparent about your life will get them every time," she says, "but it has to be genuine. And, of course, it always helps to have the love for helping others that Shekayla demonstrates every day.
Five EC Pieces
My/our "Why"?
Time with my children and to help others.
What was your single most-effecting Success Tool, factor or influence for growing your business?
Talking to everyone and telling them my story. That's how most joined my team. Being transparent about your life will get them all the time. But it has to be genuine.
Name your favorite thing about AMBITION:
Not a fair question! I LOVE IT ALL. The anticipation of getting there
Thanks to the five SCs who helped me reach EC:
Brittany Hines, she's become a sister. Met her on Facebook. Mom she's my biggest supporter.Wil Guidry he's helped me and showed me leadership. Velma – as a favor, she decided to embrace the journey. Tenna is an ambitious rock star with a great vision.