Ambit is a Very Moving Experience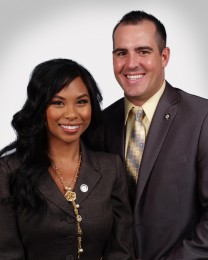 If you want to build a nest egg and pay off debt, Texas is the place to be. That's what Executive Consultants Adam and Michelle Carey believe. After working the business for six months from their home in California, they picked up and moved to what they feel is the land of Ambit Opportunity.
What could motivate a young couple to do such a thing? Adam's mother, EC Cheryl Wilson, had something to say about it. Cheryl and her husband, Mark, had been brought into the business by EC Esther Spina. Michelle says that once Cheryl and Mark saw how big Ambit was going to be, "They tracked us down and Cheryl told us, "I don't care if you want to do it. You're going to do it anyway. You're going to join!"
With California's economy sinking and Adam's boat sales business going down with it, Adam and Michelle joined the business in December 2007. The following March, they visited Texas to work the business. They met Esther and her sons, David and Aaron. They stayed in Texas ten days and it was an eye-opening experience. Michelle says she and Adam thought, "We can't miss out on this big opportunity!"
The Spinas were a big influence, providing inspiration through leading by example. "We saw David and Aaron, who are our age, young people making it happen," Michelle recalls.""We wanted what they had, the free time with their family. " ;
Making their move
You can still hear the excitement as Michelle recounts, " We went home, packed our bags, and everything we couldn't fit into Adam's pickup truck, we sold. " They moved to Texas in July 2008. They promoted themselves to Executive Consultant leadership status August 31, 2009. " Cheryl and Mark made EC five days before us, " Michelle remembers. " It was a race to the finish!"
What did they see during those ten days in Texas? How did they manage to thrive in completely new surroundings? "We saw what an open market it was," Michelle says. "It was easy to get customers. Cashiers at the grocery store… everyone we talked to had not heard of Ambit yet." Michelle says her in-laws Mark and Cheryl played a big part in keeping the fire alive, and they stayed plugged-in, surrounding themselves with successful, positive people.
Time in transition
During their first few months in Texas, Adam and Michelle worked at the Gaylord Texan hotel in Grapevine, Texas. Michelle served tables. Adam worked for the hotel's valet service. Michelle would put her Ambit business card in with the checks at the restaurant. Adam would leave his business card in the cars he parked. "It was a great way to meet people, " Michelle says, "but we were happy when we were able to quit. It came to a point where it was less productive to keep working [for the hotel] than to spend more time building our Ambit business."
You can tell Michelle is emotionally committed to the freedom Ambit can provide. "Employees have a difficult time getting free time, " she says. "In the future, we won't have to work for anyone. "
Both Adam and Michelle had a bit of network marketing experience prior to joining Ambit, but not for very long and neither had much success. Adam came in on the tail end of the Excel Communications opportunity, and Michelle had worked for awhile with another relationship marketing company. "We both liked the business model," Michelle says, "but I was too young to have the right attitude, and Adam's mom discouraged him." The irony is apparent: "Adam's mom" is the same Cheryl Wilson who strong-armed Adam and Michelle to join Ambit!
Smooth moves
Adam and Michelle have now hit their stride as they work their Ambit business full-time. They are members of two Chambers of Commerce in the Dallas/Fort Worth area, which gives them access to networking with successful business people. They invite guests to regularly scheduled Ambit Opportunity meetings.
Perhaps their most effective method for building their business is presenting the business at in-home meetings. A downline team member will host a few guests in their home, and Adam and Michelle will be there to make the Business Presentation. They present from the PowerPoint file in Power Zone, and sometimes the DVD. "Especially the Spanish DVD, because we don't speak Spanish, yet," says Michelle, as she explains that she and Adam have a growing team of people who know Spanish better than English.
"We always have a meeting Friday and Saturday, sometimes Sunday," Michelle says. "We're willing to do it any time they want." Adam and Michelle also conduct webinars, which Michelle says, "is how we got plugged in with Esther."
Moving forward
Adam and Michelle look forward to the days when they have a family and can go to their children's football games or cheerleading events without worrying about taking time off from a job. One of their goals is to help Michelle's parents have an early retirement "so they can just be grandparents." Before having children, though, they'd like to travel and get more involved in the ministry they support, the national In His Wakes organization.
Advice for new Consultants
Adam and Michelle say to be careful who you take advice from, and to surround yourself with successful people. She quotes Zig Ziglar: "If you want to fly with the eagles, you can't scratch with the turkeys."
Michelle has a daily routine. While she's doing her morning cardio workout she reads a personal development book. "Start the day off with good advice," she says. She also notes that she and Adam, instead of falling asleep to the TV, read.
Adam advises, "Stay plugged in. Go to a Business Presentation even if you don't have a guest. It fires you up again. All the successful people are at those meetings."
If you're in the Dallas/Fort Worth area and haven't met them yet, get yourself to an Ambit Opportunity meeting, and you're bound to meet at least two of Ambit's fastest-moving successful Consultants, Adam and Michelle Carey.