Building a Business Together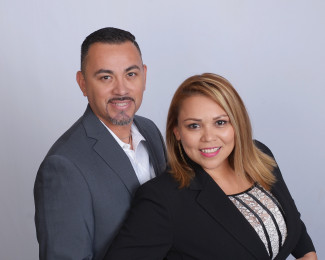 Before starting with Ambit Energy, Rene and Marivel Figueroa were already partners in business as well as life. They worked in residential painting, a business that required six-day work weeks and hours of travel to job sites. "We were tired of not having free time and we wanted to have a more relaxed life," Marivel recalls.
"The opportunity was brought to us by Bo Trevino, who was the representative for a paint company," Rene says. "What impressed us the most was the potential for weekly bonuses and the compensation plan." They also saw the opportunity to build a team that worked with passion to achieve shared goals and signed up.

Making Improvements
Rene and Marivel worked hard to build their business the right way and improve their sales and marketing skills. "We knew we had to learn more about electricity and its consumption so we could explain it to our customers so they could select the best plan," Marivel says.
Gaining that information meant attending lots of trainings and meetings, as well as asking lots of questions of field leaders. "Talking to leaders and learning from them is important," Rene says. "And when you become a leader, it's important to talk to your team."
Never Stop Building
While they've accomplished many of their initial goals, Rene and Marivel aspire to do even more. "It's great to be our own bosses and have free time again," Marivel says. Now, the couple have firmly set their sights on reaching National Consultant status. "We keep our focus on what we visualize. It helps us achieve our goals," Rene adds.
That's why they're working to build strong teams and helping others achieve their goals with an emphasis on leadership and positive thinking. It's an approach that's laid a firm foundation, and has the Figueroa's building toward an even bright future.

Five EC Pieces
My/ our "Why?"
To earn our time back.

Time spent working my/ our Ambit business:
100%.
What was your single most-effective Success Tool, factor or influence for growing your business?
The support from our consultants, goals and focus.
Name your favorite thing about AMBITION:
The motivation and the testimonies from Ambit consultants.

Thanks to the five SCs who helped me/ us reach EC.
Ofelia Melgoza
Isabel Flores
Sandra Medina
Cynthia A. Nuncio
Jose Zarate