Cleaning Up With a New Venture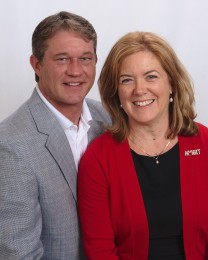 Jim and Julie Brosious are a hard-working couple. She cleaned and cared for teeth as a dental hygienist, and he owned a chimney sweep company, a spring water business and a liquor store, all while raising two children. Eventually, the couple sold their businesses and retired, living in the Bahamas for a year while they decided what kind of business they should invest in. They were thinking about buying a winery, but were afraid that would just mean a return to the 60-to-80-hour weeks they'd just escaped. That's when ECs Kim and Jim Mason told them about the Ambit opportunity.
"The residual income impressed us, but that wouldn't have meant a thing without the credibility of the Company, INC 500 and other accolades," Julie says. "We could have invested a lot of money and another 20 years of our lives in a traditional business. This is the best financial decision we have ever made," Jim adds.
In fact, Jim and Julie have been so successful that their son, their daughter, his father, a cousin and an uncle have all joined the Ambit family.
Being Part Of The Ambit Community
At first, Jim and Julie hoped their Ambit business would break even. To their surprise, they reached Regional Consultant status in just 10 days, and Senior Consultant in less than two months. "We had our full investment back in the first week," Julie says. "So our belief skyrocketed." In just over a year, the couple reached Executive Consultant.
"We are very proud to have built our business to EC so quickly and helped so many others change their financial and personal lives," Julie adds. "We know we won't have to work the rest of our lives. We have a three-to-five year business building plan with Ambit."
After a lifetime of being involved in such community activities as Girl Scouts and youth sports, the couple finds they enjoy mentoring others in Ambit as well. "We love helping team members. We often recognize their potential and strength before they do. We encourage them to be on the edge of their comfort zone," Julie says.
Shaping A Better Future
As Executive Consultants, Jim and Julie expect to continue doing the things that brought them this far. "We plan to get to National Consultant the same way we got to EC. We are doing business in several markets. We have started new meetings throughout Pennsylvania. We plan to guest speak across the country and to facilitate trainings," Jim says.Their advice to new Consultants is simple. "Get your first paycheck quickly. Attend every single training. Attend weekly BP's. Most of all, never quit on your dreams."
Together, Jim and Julie are making their hopes of success come true, for themselves, their family, and every one they touch through Ambit.
My "Why?"
Time & Freedom
Time spent working the Ambit Opportunity.
We work every day by prioritizing the night before what needs to be accomplished.
What was your single most-effective Success Tool, factor or influence for growing your business?
The support and help that we received from Chris and Debbie Atkinson.
Name your favorite thing about AMBITION.
Training and announcements of new markets.
Thanks to the five SCs who helped us reach EC.
Christina Oshetski, James Brosious Sr., Jennifer Russo, James Brosious III, Tim Gingrich