Coaching a New Team to Success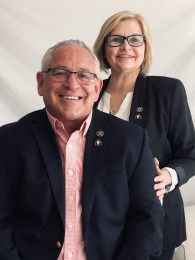 Executive Consultant Thomas Dolly spent 40 years coaching wrestling. Now, he's found a new passion in leading Ambit teams. "I'm in the Indiana High School Hall of Fame, and I have been a coach or a team leader on several national trips for wrestling," he said, "Now, Ambit has totally replaced my wrestling career." Thomas works to build his Ambit business while juggling a career as a Department Manager for the City of Mishawaka Utilities, while his wife Dolly helps with organizing meetings, doing the books and on some one-on-ones.
Learning about the Opportunity
Thomas heard about the Opportunity from a fellow wrestling coach. "SC Brad Harper, the head coach at Penn High School, tried to tell me about the business three times." Thomas turned it down each time, but after hearing from Olympic Wrestling Coach Terry Steiner, who was also in the business, Thomas was convinced. He immediately told his wife and asked to see their gas bill. She was shocked. 'She said Tom you've never paid a bill in 36 years. You don't even know what it looks like!' I said I trust Terry, so let's do it."
Thomas found the shift to working came naturally. "Without Ambit, it would have been very difficult retiring from wrestling, but it's been an easy transition from coaching kids on wrestling moves to coaching adults on how to build a business." While he faced criticism from other family members when starting his business, a number of them changed their minds after seeing his success. His oldest son joined him in the business and was his first consultant in his EC code.
Reaching New Levels
The 'Why' looks different for Thomas nowadays. "Our 'Why' has changed since we started. It used to be to help pay off the college parent loans we took out for the kids to go to school." The new 'Why' focuses on traveling to see his sons and grandchildren in California and Iowa.
With all of his success and achieving such large goals, he has some new achievements in mind. While his other goals seemed impossible at first, now they seem more achievable. "I've overcome my shyness to speak in front of a crowd, and in the future, I want to speak at AMBITION." We know he'll continue to attack these new goals with the same success as the others.

Five EC Pieces
My "Why?"
Visit our grown children and grandkids who live on the West Coast and in Iowa.
Time spent working my Ambit business:
Two-three hours a night.

What was your single most-effective Success Tool, factor or influence for growing your business?
Learning to do the PowerPoint BP and using the 3-way call, a mentorship by Brian McClure I won at a training.
Name your favorite thing about AMBITION:
Meeting so many new people and the new connections.
Thanks to the five SCs who helped me reach EC.
Alex Dolly, Elizabeth VanCamp, Frank Bumgardner, Andrew Kryder, Robin May.