It's All About Family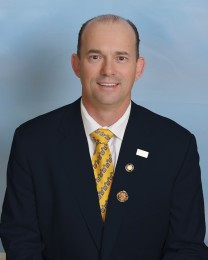 Just a few years ago, National Consultant Clint Hummel was working 70+ hours a week at a factory and had his own business. But that wasn't the hardest thing about his life.
"The hardest thing was not seeing our children enough," says Clint. "Or picking them up at 3:30 in the morning. Sometimes, they wouldn't be getting their sleep."
Clint searched for an answer, something that would help them see more of his children and be the best parents possible.
"I prayed on it, and within a week my brother brought me a DVD about Ambit," Clint recalls. "I was immediately impressed and knew I was going in 'full boat!'"
BROTHERLY BONDS
His older brother signed up as a Consultant, and Clint signed up under him. At the time, their younger brother didn't want to join.
"We asked him several times, but he wasn't ready," says Clint. "But as I worked and promoted to Regional, then Senior, and then to Executive, he sees what he missed out on – and now almost our entire family is in the business!"
"Sometimes family members and friends who don't know our story stop by the house and wonder what I'm doing at home. I tell them I'm not on vacation, I didn't lose my job – I'm financially stable because of Ambit Energy!"
Once Clint explains his Ambit business, some people are upset that he didn't tell them sooner. "That was an important lesson – make sure you let everyone in your family and all of your friends know, so they can decide for themselves if the Ambit Opportunity is for them."
FINANCIAL FREEDOM – AND MORE
Clint started his Ambit business on December 5, 2007. "It was great to know I was going to save people money," says Clint. "I truly believe the more we help others, the more blessed we are!"
After putting in several years of hard work, Clint achieved financial stability. "Now I can do whatever I want. I truly believe we are some of the luckiest people on earth!"
Beyond the financial benefits, Clint has been rewarded with something else wonderful – his fifth child.
"Now I can see my children and family, and really get to enjoy life," smiles Clint. "Ambit Energy has given us that. It's so great to be able to attend every family event!"
NEXT GOALS
Clint has a new set of personal goals: getting a tutor for his children, traveling around the country, and deciding on a new place to call home.
"It truly is a dream come true!"
As for business goals, Clint wants to help as many people as possible achieve financial freedom for themselves. "The most powerful demonstration of Ambit success is seeing others who are now able to live the way they want."
A GREAT TEAM & GOOD ADVICE
"I am blessed with what I believe is the best team in Ambit," declares Clint. "They're my extended family, and I want to help every one of them reach financial stability."
Clint is grateful to all the members of his Ambit organization, and is excited how The Opportunity has "changed thousands upon thousands of lives – and that it can change the lives of millions!"
He advises new Consultants to listen to successful leaders. "When I first started, I did my own thing for three months but accomplished very little. Then I started to listen to my leaders, and in just three days I did 700% more than the first three months!"
SEE YOU AT AMBITION 2061!
Clint's leaders strongly encouraged him to attend AMBITION 2008, even though he didn't really have the money at the time.
"If I didn't go, I wouldn't be where I am today," he says. "It's what finally got me to follow the system, and strengthened my belief in the company."
"I've attended every AMBITION event, and I plan on being at everyone for the next 50 years – I wouldn't miss it for anything!"
It's hard to bet against Clint Hummel being in attendance at AMBITION 2061 – with his incredible work ethic and love for his Ambit Energy business!