Learning in a New School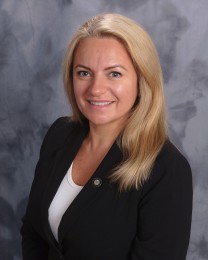 The phrase "never give up" more than describes Sylwia Mackowska. It's also the one piece of advice that she passes on to any new Consultant. Sylwia has experience in making the best of things when the odds are stacked against her. She moved to the United States from Poland in 1997 determined to build a better life for her family. A registered nurse and administrative technician, she couldn't find work because she didn't speak English. "To make money, I took chances and had three different jobs," Sylwia said. She clocked more than 100 hours weekly, but still didn't have enough money. "I was tired, and I didn't see my daughter," she said.
Things started to change once she attended an Ambit Business Presentation with her best friend, Mariola Kulpa Jaskulak. She didn't understand much of what was being said because of her limited English, but joined anyway. "I joined because she said this is huge and can change my life and I trust her," she said. Sylwia is the sole provider of her daughter, mother and brother, who are both disabled and unable to work. The opportunity couldn't have come at a better time for her.
A New School
Sylwia was determined to change her life. Her first step was to learn English. "I went to school to learn English. At the same time, I grew my business and was eventually promoted to EC," she said. The change signaled things were moving in the right direction for her. "Ambit changed my life and my daughter's life. Now, I have no worries," Sylwia said. She considered her lack of English a challenge for her, but there were other challenges she had to overcome as well. Her family was one of them. Her family was skeptical of her new business venture, but she won them over after they saw her three years of hard work. Now, she has the full support of her family. But, there's been one person who has been her biggest cheerleader, her daughter, Venessa. "She is present at every Ambit event including AMBITION," Sylwia said.
There are other things that Sylwia learned that kept her on pace to earn the promotion to EC. "I kept it simple," she said. She found that's the best advice she can pass on to new Consultants. It's her ability to keep things uncomplicated that has caused few bumps on the road to reach her goals. "I'm working on being more aggressive in approaching new people," Sylwia said. Her focus now is finding likeminded people and creating new leaders. "In working with Ambit, I'm able to help people around the USA."
Earlier this year, Sylwia was able to clearly see the impact Ambit had on her life. "I had an accident, a few surgeries and I was even in a wheelchair for a while," she said. "I wasn't able to build my Ambit business during that time, but my income kept coming in every single month. I also made my promotion to EC," Sylwia said. It reinforced for her that she made the right decision to start her Ambit business.

Five EC Pieces
My "Why?"
As a single mother, I want to give my daughter a better life and support my mother and brother.

Time spent working my Ambit business:
In the beginning, I just did Ambit on a part-time basis, and now, I work it full-time.

What was your single most-effective Success Tool, factor or influence for growing your business?
Ambit Power Point payment plan.
Name your favorite thing about AMBITION:
Networking
Thanks to the five SCs who helped me reach EC.
SC Wieslaw Bednarz
SC Bozena Mikula
SC Grazyna Bielski
SC Leticia Marin
SC Fabiola Leon