Making Sweet Music With Ambit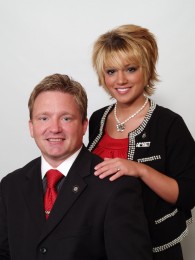 From the coal mining hills of southern West Virginia to Santa Fe, Texas, it's been an interesting journey for EC Phil Toler.

"My business background is in the music industry," says Phil. "I've owned and operated recording studios, a record label and a publishing company. I've had the opportunity to share the stage or play in the studio with some of the finest musicians in the world. And I was self-employed in the music business for 17 years."

But music is a fickle industry, and it's even "somewhat seasonal," according to Phil. "Spring and fall were always great times in the studio. But summer and winter were a bit of a challenge. I often tell people … "You can eat like royalty in the music business, Burger King or Dairy Queen. It's not steak and lobster all the time."

And after 17 years in music, Phil realized that despite the glitz and glamour, he was still "living like most people – from paycheck to paycheck." He decided to change some things about his life in order to better himself and his circumstances. So Phil investigated real estate and other investment opportunities, but he didn't have a lot of time or money to invest in the beginning.

"That's why I gave Ambit a hard look."

FINDING AMBIT
"A little over two years ago, Monica Taylor – a good friend of mine – introduced me to the Ambit Opportunity via a DVD," recalls Phil. "Even though I was looking for more income, I really did not expect anything significant to come from watching a 20-minute DVD."

"And yet, I never would have dreamed that one moment in time would have such a profound impact on my life."

THE POWER OF "WORD-OF-MOUTH"
Throughout his career in the music industry, Phil relied heavily on word-of-mouth advertising, especially because "it worked." And although he loved the concept of network marketing, Phil didn't want to sell a product or appear to be taking advantage of his friends and family.

"With Ambit, I saw a way to merge the best of both worlds," notes Phil. "I could earn a significant income using word-of-mouth advertising – simply by helping people save money and by showing others how to do the same thing. It was a no-brainer for me – it was ENERGY! It just made too much sense to say no."

Right away, Phil was impressed with the support he received. He met NC Chris Atkinson at a restaurant in League City (TX) the day after he joined the business, and was impressed by Chris' willingness to meet with him in person. "That told me all I needed to know about this company. I was ready to start building."

IT'S NOT "STUPID" ANYMORE
Phil was his own first customer, and his mother immediately became Customer #2. "And that triggered my first check!" Although his father – a pastor – thought that the Ambit Opportunity was something that Phil should pursue with passion, it wasn't for him.

His friend Jennifer – who is now his wife – told Phil she thought it was "stupid." Phil laughs at the memory, claiming that "she no longer has that opinion!"

"Some people saw the potential immediately, but others said it was too good to be true. But regardless of what anyone said, I was determined to see this through. I knew it would work – it had to."

Phil's family and friends think his success with Ambit is great. "They're very supportive and have seen many changes in me. And they're now the ones asking me about this 'Ambient' thing and if it can work for them too – it's really funny."

"And of course, my wife Jennifer now helps me build the business!"
RESULTS BEYOND EXPECTATIONS
Initially, Phil was really looking to supplement his income – he thought that extra money from a network marketing business would be great.

"But after I achieved my first financial goal, I began to see bigger things down the line."

In the first two years of his Ambit business, Phil's results have far exceeded his expectations. And he has big ideas about the coming years: "I look forward to the future with great anticipation, KNOWING that better days are still ahead!" IT'S "A WAY OF LIFE"
In the beginning, Phil was working only 15 to 20 minutes a day on his Ambit business. But after a few months of that schedule, he realized he was onto something special and started doing more.

"We work Ambit full-time/part-time in our spare time," he claims quizzically. "I know that might not make sense to some, but Ambit is a way of life for us. We just work Ambit any time we're out."

He also received some very helpful advice early on, from his "business mentor" Chris Atkinson. "He told me that if I wanted to make more money, I needed to attend more meetings."

Knowing Chris and his wife Debbie were very successful, Phil followed this advice. He began attending two meetings per week and never missed a training or special event. "That advice paid off. My income increased – as did my knowledge of the business."

Now, Phil and his wife host three weekly meetings and attend two others. He serves as a trainer at their local events in Clear Lake, Katy and Houston. "But even with that schedule, we're only at about 20 hours per week. Who wouldn't work 20 hours a week for financial freedom?"

"And it's not 'work,'" he continues. "We get to hang out with friends and meet new people. And we introduce them to the #1 fastest-growing private company in the United States! Can it get any better? We don't think so!"

THE TEAM MEANS EVERYTHING
Phil is always grateful to Chris and Debbie Atkinson for their support. For him, "they've been a source of inspiration and motivation in helping us build our team. I know that to become successful, you simply do what successful people have already done. I couldn't ask for two finer people to learn from."

The team that Phil has assembled has "meant everything" to his success. He maintains that he couldn't have reached the Executive Consultant level without helping others attain their goals in the business.

"I'm a very 'hands-on' type of leader. And I love hearing people in our group talk about how Ambit is paying for their new truck, helping pay their bills, giving them freedom. I enjoy helping others find financial success, and that doesn't mean only those in our group. I believe that as Ambit rises, we all rise together!"

He's especially proud of the team he's assembled – from the newest MC to the newly promoted EC Ron Jenkins. "They are the best! I'd like to thank the five SCs who helped promote us to EC, too: Mark and Vicky Walker, Sue Tombrella, David Reyna, Dr. Ron Jenkins and Carly Hicks."

THE FREEDOM TO DO "WHATEVER, WHENEVER"
Ambit has allowed the Tolers the opportunity to enjoy life stress-free. Phil no longer has to work in the recording studio 40 to 60 hours per week. "Now I have that time to invest in my family – my wife Jennifer, and our daughters Alyssa and Alexa. And Jennifer will never have to work again. The freedom to do whatever, whenever, is an incredible feeling!"

In addition to getting to spend more time with his family, Phil enjoys serving as a worship leader at a local church.

WHAT'S NEXT
As for the future, "National Consultant is in our sights," says Phil. "In time, we'll reach that goal. Until then, we will enjoy the journey and push to help those who want to help themselves."

"I see a future where our children and grandchildren won't have to deal with financial stress. I see a life that will leave a legacy – that's my ultimate goal."

For new Consultants, Phil has some sound advice: "Never take for granted the day you have today. Never let yesterday be good enough for tomorrow. And always do the right thing. When you do, you'll always get the right result!"

Clearly, Phil Toler is hitting all the right notes with his Ambit business!