The Path to Ambit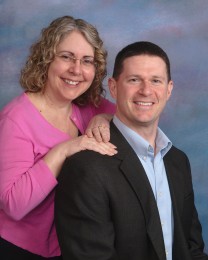 Direct marketing is what brought Tony and Diana Procopio together. The two met while working at a direct marketing company and much of their working life is centered around being entrepreneurs. "We both decided to start our own businesses after working in corporate America so we could have more flexibility with our time and not have to work on someone else's schedule," Diana said. The pair knew their history with working with other direct marketing companies had the possibility to make working with Ambit a success. But, their past didn't mean that Ambit was going to be the choice for them.
"At the time we found out about Ambit Energy, I was in the process of starting a second business in the technology sector using a direct sales method," Tony said. They were looking to add another business to generate additional monthly income along with their other businesses. The two have done everything from pursuing their passions to capitalizing on their talent. They run a full-time summer camp for kids together and balance other careers. Diana operates a home-based daycare while Tony recruits for the IT and sales sectors.
But, it turns out their path led them elsewhere: directly to a career with Ambit.
Following the Footprint
The Procopios learned about Ambit from their neighbor, Bill Dean. Because of Tony's background in company analysis, Bill wanted his opinion on Ambit. Less than 24 hours later, the couple watched the Ambit DVD six times and Tony rated Ambit the highest of any of the 800 companies he researched. They also received a visit from Senior Consultant, Jeff Rollins. The decision was simple; they joined the company that same day. "Our expectations were to earn an extra $1,000 a month, which was equal to an extra week of income from Diana's daycare business," Tony said. "Now, three years later, our part-time Ambit Energy income pays us more than our other businesses combined."
Initially, their family was hesitant to listen to another of their business ideas. "Our families supported us through our other business ventures for more than 17 years. This time they weren't so willing because of their preconceived notions of our businesses," Diana said. But, that resistance lifted as soon as their families saw their results and that they were serious. "Now, almost every close friend or family member is either a Customer, Consultant or both."
The two believe their Ambit business holds the key to getting the future they have dreamed of for years. They want to travel more in their RV and hope to expand their summer camp. "We have a strong desire to fund summer camp programs for children so that parents who normally can't afford it will have the opportunity to send their kids," Tony said.
Sharing the Blueprint
Their past experiences in team building prepared them for their Ambit careers. However, they feel the road to Executive Consultant is their most challenging achievement of their careers. But, reaching that goal is what allows them to help others the way they do. "We can talk about the recognition we received, but the most satisfying moments come when we see other people's lives changing right before our eyes," Diana said. Their time in Ambit is a journey they willingly share with others. "There is nothing better than seeing people on our team dreaming, growing and succeeding," Tony said.
Their advice to new Consultants is simple. "You should find your why, use an organized system and never give up," Diana said. It's the one thing that keeps the Procopios going. "There are days when we run on faith and over time, we mastered the art of picking each other up," Tony said. It has been the art of never giving up that has kept the couple focused and determined to make things work. The Procopios know that having a plan is the single most effective thing that Consultants can do for the business. "If you do these things, you will have success in your Ambit business. If you don't do them, then success might happen," Diana said.
Five EC Pieces
Our "Why?" To retire from the work-a-day world, and become world explorers, bringing a message of hope and a better way to the people we meet.
Time spent working my/ our Ambit business: 15-20 hours

What was your single most-effective Success Tool, factor or influence for growing your business? The Memory Jogger. Your names' list is the blueprint for your business. If you want a big house, you need a big blueprint. If you want a big Ambit business, you need a big names' list.
Name your favorite thing about AMBITION: Definitely the bus trip to Dr. Pepper Field with our team and all the leaders for the corporate vs. Consultants Grudge Match at the stadium! Diana especially loves the fireworks!
Thanks to the five SCs who helped us reach EC.M
Chris & Jutta Halpin, JD & Julie Doyle, Barbara & George Rompre, Nick Montanaro & John D'Auria