Consultant Leadership Spotlight
Our Consultants come from every background, from all walks of life, and from all over the country. Indeed, sometimes it seems the only things they have in common is their drive to succeed, their integrity, and their willingness to work hard to achieve their goals. By sharing some of their success stories, we hope to inspire others to achieve their full potential as part of the Ambit family and recognize their stellar achievements.
---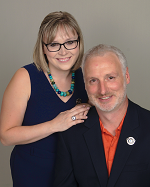 Small Expectations, Big Results
Amber Hassett wanted one extra hour of sleep. "I'd just had my fourth baby and I worked from 5:00 a.m. to 8:00 a.m. each day typing medical records," she said. However, she had to keep working. But, then her husband, Alex, received a phone call from National Consultant (NC) Thien Bui about the Opportunity. She didn't know much about Ambit, but hoped they could earn enough so she could work less hours.
Old and New Dreams
Amber's work situation changed quickly. "When my first paycheck from Ambit was more than what I made in a month, I realized it was going to be bigger," she said. The extra money from Ambit was enough to make a longtime dream finally seem possible. "My husband and I have always wanted a large family and Ambit has given us the financial stability to do so," Amber said. Now, with Ambit going strong, Alex and Amber are working together even more at home and in their business. "Alex is vital to the business and handles the kids during the week while I do in-home meetings and teach our downline how to grow their businesses," she said.
She admits it was hard hearing no from others, even her family at first. "My sister told me 'Amber, I love you, but I'm not selling gas.' Now, she's a Senior Consultant," she said. Her mother has also joined the business, after owning her own company for more than 30 years. "They all see that it's clearly a successful business," Amber said.
Meeting the Vision
Her new life and its changes is why she wants to encourage others to start their own Ambit businesses. "My goal is to help my Consultants become Financially Free," Amber said. Her advice for new Consultants is simple. "Everyone's PowerZone starts out the same," she said. "Run with the runners, walk with the walkers, but don't sit the bench."
The next stop for Amber and Alex is NC. The plan is simple for how they'll get there. "We're just going to keep doing what we do," she said. "For us, Ambit is the Plan A." Now Alex's outlook on the future is different, and he can see them accomplishing more of their dreams. "I used to think I would be working until I was 70," he said. With their success, we can see Amber and Alex are well on their way to achieving anything they set their mind to do.
Five EC Pieces

My "Why?" To have a large family and provide for our children financially.

Time spent working my Ambit business: 1 year.

What was your single most-effective Success Tool, factor or influence for growing your business? Working with my mom and sister. We push each other to keep going.

Name your favorite thing about AMBITION: The people. I love seeing and spending time with people.

Thanks to the five SCs who helped me reach EC. Victor Prieto, Jennifer Heric, Sheryll Werner, Laura Rawson and Calvin Majied, and Victor Smallwood.
---
---
---
---