A Better Opportunity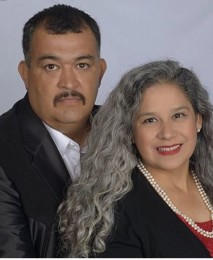 Beatriz Lopez had a successful career as an educator in La Joya, Texas, but her and her husband Severino aspired for a higher level of success. She ran a daycare out of her house and tried a number of multilevel businesses to supplement the family income, but they never helped her family achieve their goals. "Ambit was an answered prayer at a time when my husband's business wasn't doing so well," she says. Despite a schedule that included taking care of five children, church and other activities, Beatriz decided to make the commitment and focus on her Ambit career.
"My "Aha" moment was when I went to my first Ambit Business Opportunity meeting and an EC who didn't even know me helped me with the guest I'd invited. I'd never experienced that in any other direct selling business, and that's what made me stay with Ambit."
Focusing on Ambit
After deciding to focus on Ambit, Beatriz decided to close her daycare business. She convinced Severino to help out, and they started to work as a team. She also found being bilingual contributed to her success. With the support of her fellow Consultants and family, Beatriz began regularly working her business and helping others achieve success.
"I am changing people's lives," she says. "Achieving Executive Consultant is my biggest achievement, and I've learned so much along the way."
Earning Top Marks
Beatriz looks forward to continuing to more than just make the grade as a Consultant. "I plan to do two trainings a week and to create as many RCs as I can," she says. "I want to build my residual income to the point I can stop working as a teacher."
With all she's learned and all she has to teach others, it seems likely that Beatriz will continue to find success with Ambit.
Five EC Pieces
My "Why?"
Time for my family and to serve with my church.
What was your single most-effective Success Tool, factor or influence for growing your business?
One-on-one home business presentations with the support of my sponsors
Name your favorite thing about AMBITION:
The different level trainings and that there is no training on Sunday. I also like the testimonials people share on how they built their Ambit business because they encourage others to see that they can do it, too.

Thanks to the five SCs who helped me/ us reach EC.
My daughter Beatriz Lopez, Alberto Leal, Mary Flores, my daughter, Guadalupe Rodriguez and Frank Melgoza
---
Featured Consultant
At Ambit Energy, we're inspired, proud, and even awed by the success stories we hear from our Consultants every day. Learn what motivates some of our top Consultants, read why they decided that Ambit was the right company at the right time, and maybe even pick up some inspiring tips to help you build your own business and achieve a similar level of success!