A Big Hit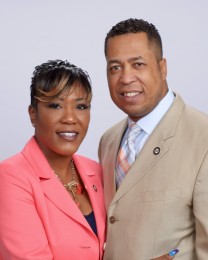 Life before Ambit was pretty good for Kris Brooks. He was an award-winning regional sales manager for an advertising company in Dallas, and had built a successful 20-year career. His only concern was the fact he worked on commission, which made his monthly paychecks a little uncertain.
Then came the recession of 2008. According to Kris, "My business took a major loss. I saw a six-figure income get cut in half and I started to look for opportunities. I saw an advertisement in my homeowner's association newsletter, and learned about the Ambit Opportunity. The $429 enrollment scared me off. I'd been involved with other network marketing companies and not had any success."
Not long after learning about Ambit, Kris had a summer of high electricity bills. That inspired him to look for that newsletter again to find the phone number. He couldn't find it, but he did remember seeing an Ambit billboard. He called the number and was referred to a Consultant for enrollment.
A Slow Start
"When I started my Ambit career, I thought it would be easy," Kris says. "Boy, I had a rude awakening." He was surprised at how skeptical people were. His experience in sales helped him handle the rejection, and he picked up on something: "I noticed all the successful people went to all of the events." Kris followed their example, and started to attend every training and event he could. Eventually, his hard work paid off. His Ambit career really took off when his then girlfriend, La Shalette Cooks joined the Ambit family. Not only did she become his first Senior Consultant, but she helped him fined his new why when they married and he wanted to get their two younger children through college.
Still while Kris' journey to EC has taken a lot of hard work, he only has one regret. "I wish I had done this sooner," he says.
Ready to Move Ahead
While Kris is proud of his accomplishments, he has no plans to let up. "My goal is to make the next Five-Star Trip. And I want to have some Fast-Track RCs and SCs in my organization as well as hit my Financial Freedom number in the next 10-12 months. He plans to reach National Consultant by doing what he's always done—working the Ambit System and remembering his TEAM33 slogan "Helping People Dream Again."
Looking back on it all, Kris says "I have been very fortunate to be around a lot of top income earners in my Ambit journey, and I try to pass on all I have learned."
Five EC Pieces
My/Our Why?
To achieve Financial Freedom. To have time freedom and to have a higher quality of life.
Time spent working my/our Ambit business:
20 hours a week.
What was your single most effective success tool, factor or influence for growing your business?
The three-way call and getting coaching from my upline.
Name your favorite thing about AMBITION:
The "Big Show," the Saturday all-day session.
Thanks to the five SCs who helped me/us reach EC:
LaShallette Cooks, Alegre Smith, Alisha McGilbra, Jason Stagg, Thelma Garrett
---
Featured Consultant
At Ambit Energy, we're inspired, proud, and even awed by the success stories we hear from our Consultants every day. Learn what motivates some of our top Consultants, read why they decided that Ambit was the right company at the right time, and maybe even pick up some inspiring tips to help you build your own business and achieve a similar level of success!