A Breakdown Results in a Big Break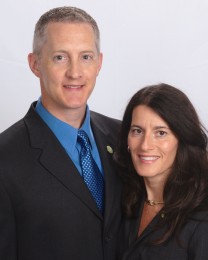 Carter and Josie Mook have backgrounds in the criminal justice system—he's a police Captain running a patrol division and she worked part-time as an office-administrator in the court system. Even with both of them holding down jobs, Carter had to put in 60-70 hours a week. On Father's Day of 2012, he did a 16-hour shift, and only got to see his daughter for 30 minutes. He knew there had to be a better way.
Soon after that, things took an interesting turn at his local racetrack. Carter loves racing cars as a hobby, and one night his car blew an engine. Unable to afford to fix it, he had to borrow cars from friends for the next few weekends. One night, he borrowed a car from his pal Eric McCray, an Ambit Consultant. After a conversation with Eric, Carter knew he had found the perfect way to power his income while putting the brakes on all that overtime away from his loved ones. "This business opportunity is just too good to miss," Carter says.
Full Speed Ahead
Even with Josie working part-time, the Mooks were still struggling to make ends meet. Their initial goal was to get their income back to the level they'd enjoyed when she'd worked full-time. The couple worked hard to get their business up and running, but just when it looked like the finish line was in sight, their plans were nearly wrecked.
Nearly Walked Away
The Mooks entered a time of life challenges right as they were trying to build their new Ambit business. First, Josie's father had a heart attack. Then, just four months later, Carter's father also suffered a heart attack. While both men survived, helping care for them took up a lot of time and the couple's Ambit business stopped growing. "We were ready to step away from the opportunity," Carter says. "Then Jeff Craft decided to partner up with us. He led to the momentum that propelled us to Executive Consultant."
Racing Toward the Top
Reinvigorated by their new partnership and, with both their fathers healthy again, the Mooks rapidly developed their Ambit business. Josie was able to quit her job and become a full-time stay-at-home mom, and Carter has repaired his car and been able to continue his racing hobby.
They've also developed their skills. "Carter is shy by nature, but this business has enabled him to step out of his shell," Josie says. "We've helped others create a residual income, and one of our downstream team members has also started working Ambit full-time."
Up Next
In the future, the Mooks hope to reach a level that will allow Carter to retire, spend more family time together and, of course, achieve National Consultant. Their advice is simple: "Use the Ambit system, and don't try to reinvent the wheel. Reach out to your upline for help."
Good advice for a team that's moved into the fast-lane of success.
My/ Our "Why": To allow Carter to stop working 60-70+ hours per week and to allow Josie to be a stay-at-home mom.
Time spent working the Ambit business: 10-15 hours per week.
What was your single most-effective Success Tool, factor or influence for growing your business? EC's Steve and Connie Sunday and NC's Jim and Kim Mason doing home shows and 2-1's to kick start our business into gear.
 
Name your favorite thing about AMBITION: Hearing other Consultants' success stories.
 
Thanks to the five SCs who helped in the journey to becoming an Executive Consultant: Jeff Craft, Robin Green, Tom Petti, Joe Anderson and Bryan Wright.
---
Featured Consultant
At Ambit Energy, we're inspired, proud, and even awed by the success stories we hear from our Consultants every day. Learn what motivates some of our top Consultants, read why they decided that Ambit was the right company at the right time, and maybe even pick up some inspiring tips to help you build your own business and achieve a similar level of success!