A Career Turn for the Better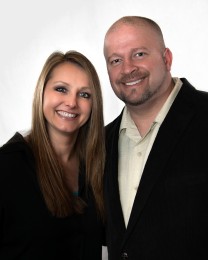 Like many couples, the Turners underwent a midlife career change. Trick, a police officer, had to leave his job after suffering an injury. And when the couple moved to Illinois, Kalyn had to quit teaching due to certification issues and started a new career in sales.
With her working longer hours, the couple felt they had no time for family, and were looking for a change. When a coworker told Kalyn about Ambit Energy, she was ready to listen. "Kalyn was the top seller at her company for three years running," Trick says, "but she only got paid once for every sale. Her sponsor told her with Ambit she'd be paid over and over again on everything she sold. At that moment we were in!"
"Our first "Why" was to be able to gas up our pickup truck when gas was $4.89 a gallon," Kalyn says. "Now it's Financial Freedom."
Discovering New Skills
For Trick, selling Ambit was a new and even scary proposition. "I said 'This isn't for me. I've never sold anything and I'm not about to start now.' But Kalyn put me in the business." Trick signed up his mother as his first Consultant, and one week later they had signed up 22 Customers. In three weeks the Turners made back their initial investment.
Along the way, Trick discovered that, like Kalyn, he had a knack for sales. "I'm growing more comfortable with public speaking. And Kalyn has gotten more patient as she watches PowerZone for literally hours a day."
"As you start to grow your Ambit business, the more you'll find yourself focused on helping others grow and be successful," Kalyn says. "That forces you to take on a leadership role."
The Turners leadership abilities have been rewarded with recognition as FastTrack Senior Consultant status, a Five-Star Trip, the Top Recruiter in Illinois award and, now, Executive Consultant status.
Building for the Future
The Turners may have just become ECs, but they're already looking forward to achieving even more. "We want to be the biggest and baddest EC team ever. We'd love to expand into a brand new market. We plan to have even more group trainings and develop even more leaders than ever before," they say.
The Turners also understand that the best way to succeed in Ambit is to help others. "We have an open door policy. We are always ready to take Consultants out individually for training as many times as needed to help them develop their skills."
It's a generous approach that has paid off for this dynamic team.
My/ our "Why?" Financial Freedom…so we can be blessed so we can be a Blessing!!

Time spent working my/ our Ambit business: 1 of us is full-time at all times now

What was your single most-effective Success Tool, factor or influence for growing your business? We are pretty Scrappy—-and Tenacious…..Sticktoitiveness (is that a word)?!

Name your favorite thing about AMBITION: The Energy! Friendships we have made!! The Networking opportunities!!! The training is second to none….you come back home re-energized!!! Our Ambit family is absolutely Amazing!!!!! We Love You and Thank You for all your Support!!!

Thanks to the five SCs who helped me/ us reach EC.
Stacy J Hickam
Larry Burns
Mindy Shaw
Cynthia Hyatt
Keith Magac
---
Featured Consultant
At Ambit Energy, we're inspired, proud, and even awed by the success stories we hear from our Consultants every day. Learn what motivates some of our top Consultants, read why they decided that Ambit was the right company at the right time, and maybe even pick up some inspiring tips to help you build your own business and achieve a similar level of success!