A Chance to Blossom With Ambit
Sue Ucker , Executive Consultant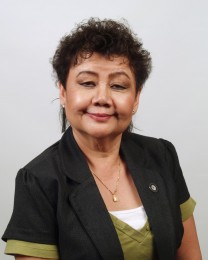 Sue Uecker knows how to grow a successful business. Or two. Maybe even more. When she moved to the U.S. from Thailand, she didn't speak a word of English, and this made it impossible for her to find a job. Rather than let this hold her back, she opened her own gift and card shop. When this operation became a success, she opened a flower store and ran both businesses for 10 years, still finding time to teach herself English by watching TV. Later, she closed both her stores and went to work managing another flower shop, before leaving to run another florist shop of her own.
Sue's willingness to work hard and her experience as a businessperson were the seeds of her success with Ambit. "I saw the opportunity for me to advance for my future at my own pace," she says. "Ambit came into my life at the right time." She credits the persistence of her sponsor Margie Elizondo for getting her involved. "She didn't give up when I said 'no.' My upline EC Pricilla Calara took me under her wing and taught me to become successful and is always there for her team."
Growing a lasting legacy
"I want to leave a legacy for my son, and to help everyone in my team. Because of Ambit I am more confident in myself and not so worried about my financial future. I know it will come as I progress by working my Ambit business every day," Sue says.
Sue is especially grateful that Ambit has provided her with a way to make a much higher income than her previous business ventures. "I feel like a college graduate because I am making college-educated level money." With Ambit, Sue is looking forward to not only a successful retirement, she is certain she'll be able to pass the fruits of her hard work on to the next generation.
Nurturing success
Sue loves to pass her success tips on to budding new Consultants. "Whenever I have a new consultant I tell them this business is already in place. All you have to do is follow the system. Do not give up, work it every day whenever you can and you will succeed. I believe in teamwork, when you help your team succeed you will be successful yourself." As for her own goals, Sue says "I will try to work to the next level, whatever I achieve will be a nice surprise. I cannot imagine my life without Ambit."
Amazingly enough, after working for 30 years as in the floral business, it took only a few months as an Ambit Consultant for Sue Uecker to truly blossom.
My "Why?"
To build a legacy for my family and build my financial freedom.
How many hours a week do you work your Ambit business?
I'm working Ambit full time. Whenever needed, I will work.
What was your single most-effective Success Tool, factor or influence for growing your business?
My persistence makes it happen. I always make sure that I have a new consultant or customer every single month.
Name your favorite thing about AMBITION.
Mostly how the company is growing and the announcements. It shows me I'm with a GREAT company.
Who are your five SCs who helped you reach EC?
Elizabeth Cavazos, Noemi Hilario, Debbie Gomez, Bart Pena, and Claudia Macias
---
Featured Consultant
At Ambit Energy, we're inspired, proud, and even awed by the success stories we hear from our Consultants every day. Learn what motivates some of our top Consultants, read why they decided that Ambit was the right company at the right time, and maybe even pick up some inspiring tips to help you build your own business and achieve a similar level of success!