A Chance to Soar
James Hall, Executive Consultant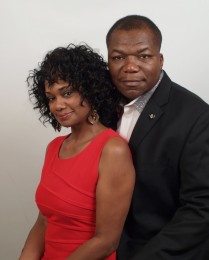 After 24 years with American Airlines, James Hall had put in plenty of time in the corporate world. In fact, he'd done well enough to acquire a half-dozen rental properties that he ran with his wife. Still, he found himself tired of dealing with tenants who were behind on their rent and with reduced benefits and wages at his job. That's when two co-workers took him to lunch and gave him a personalized Ambit presentation.
"I immediately became intrigued by the chance to earn a recession-proof residual income each month, the low monthly overhead cost, the opportunity to make a great income while working my regular job, and the opportunity to help my friends and co-workers save money," James says. "And with my job, I could travel to all Ambit's markets for free."
Rising expectations
When James first got involved with Ambit, his expectations were fairly minimal. "My immediate goal was to make a monthly income equivalent to my electric bill," he reports. However, as his business grew, so did his expectations. Before long, James was paying all his household bills out of his Ambit earnings, then his bills and his mortgage, and now he's aiming for his financial freedom number. He tells other consultants "If you don't have a financial freedom number, you need to get one fast!"
"All of our family live in other states and many joined as consultants of Ambit Energy because they trust us." Not only has Ambit helped James and his family build toward their financial freedom, it has helped him pursue his other business interest. He's invested some of his earnings in an Internet broadcasting company, and still has enough left over to save up to retire by age 50. "The combined weekly and monthly income has surpassed our expectations," he says. "My wife and I dream and smile more. Now I can take real vacations with my family, and I can see my retirement in the next 18-24 months."
Looking ahead
"Until recently, becoming a National Consultant wasn't a reality for me and my wife. But now it is!" James plans to continue to build his organization until he has effective leaders in every state, and hopes to create philanthropic opportunities to help those who need assistance.
He advises new consultants to "commit to working harder for themselves versus their employer. You must take Ambit and use it as a tool to change your future. Do not quit. Define what success means to you." Learning, earning from AMBITION
"My wife and I have attended four AMBITIONs," James says. "Not attending is not an option. Over 300 new consultants have joined our organization since Ambition 2011 (just three months). AMBITION provides a sense of pride in the company and my organization has grown each year, and there is a sense of anticipation of what the future holds for us."
From simply wanting to pay his electric bill to planning for an early retirement, James Hall's trip with Ambit is a success story worth sharing and he thanks Jere and Chris for this opportunity of a lifetime.
Our "Why?"
To retire by age 50, explore & travel worldwide, pay for Destany's (daughter's) college education, and charity.
Time spent working Ambit
About 20 hours a week
Most-effective Success Tool, factor or influence for growing the Ambit business.
Energy 526 most effective tool
Favorite thing about AMBITION.
New Market Announcements. Getting together with my team and meeting some downline consultants for the first time.
Thanks to the five Senior Consultants who helped us become Executive Consultants.
Bonita Hall, Genaro Aguillon, Jose Perez, Francisco Verdugo, Asuliui Ortiz
---
Featured Consultant
At Ambit Energy, we're inspired, proud, and even awed by the success stories we hear from our Consultants every day. Learn what motivates some of our top Consultants, read why they decided that Ambit was the right company at the right time, and maybe even pick up some inspiring tips to help you build your own business and achieve a similar level of success!