A Change of Heart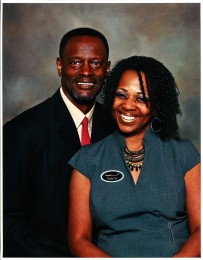 A Change of Heart
James and Frieda Cox had no interest in starting a network marketing business. For one thing, they were busy enough as it was. James worked for United Airlines, and Frieda was involved in a number of Houston-area businesses, including several Hair Salons, a Dance Boutique and a Dance School. She also has a Doctorate in Theology, and the Coxes were volunteer interpreters for the Deaf Ministry at their church. Their spare time was filled with three grown children and six grandchildren. Finally, they'd watched Frieda's brother, Pastor Kenny Smith, work with various networking businesses. And when he talked to them about Ambit, Frieda says "I didn't want to hear anything about any network marketing business."
But it wasn't too long before the Coxes had a change of heart. First, they were hit with high electricity bills from a company they'd been loyal to for more than 30 years. After they were unable to resolve the issue, they agreed to become Ambit Customers. Then, James was laid off from his job at the airline. Needing to replace his lost income, he agreed to meet with Kenny. He found his brother-in-law's story—and the Ambit DVD—compelling, and signed up.
"I joined up with James just to make sure we recouped our original investment. I even threatened my brother that this business better be legitimate," Frieda says. Her brother not only proved that Ambit was a solid company, he provided the couple with the coaching and training they needed to hit the ground running.
Tragedy and Support
"Our 'Why' was to be able to pay for our grandchildren's college education and leave an inheritance and legacy for the next generation," James says. That focus on the future of the next generation made the death of their granddaughter, Jade, in a traffic accident caused by a drunk driver all the more tragic.
"It would have been easy for us to stop the business, but we remembered our 'Why' and quitting was not an option," Frieda says. "During this time, love prayers and support came pouring in from family, friends and our newly found Ambit family," James says. That support helped them to work through their loss and focus on building a future for their surviving grandchildren.
Together, they persevered and continued to build their business.
Looking Ahead, Together
Now that they've reached the rank of Executive Consultant, James and Frieda are reaching out to even more friends and family members. "Our message is that this is truly a possibility for them if they just get started, and stick and stay with it until they get there," James says.
"Perseverance and support are the keys to achieving your goals and will always be what takes you to the top," Frieda says. "Life will surprise you, but having a plan in place to shield you from financial obstacles brings a sense of peace most people can only dream about. Build your well before you are thirsty!"
Together, the Coxes continue to work, building a legacy for their family and the many Consultants who have helped contribute to their success.
My/ our "Why?"
To provide for our grandchildren's education and leave a legacy for future generations
Time spent working my/ our Ambit business:
We work Ambit part-time, just a few minutes each day. Ambit works!
What was your single most-effective Success Tool, factor or influence for growing your business?
Trainings, Power Trip, Pastor Kenny training on speed vs. strategy and various self-development, such as John Maxwell, Darien Hardy and Jim Rohn.
Name your favorite thing about AMBITION:
Watching fellow Consultants receive awards for their hard work and hearing their success stories, not to mention fellowship with so many new and old friends.

Thanks to the five SCs who helped me/ us reach EC.
Lisa Okoh-Brown
Phillip Clark, Sr.
Pastor Clayton and Freda Stewart
Jacquie Jones
April Kline
---
Featured Consultant
At Ambit Energy, we're inspired, proud, and even awed by the success stories we hear from our Consultants every day. Learn what motivates some of our top Consultants, read why they decided that Ambit was the right company at the right time, and maybe even pick up some inspiring tips to help you build your own business and achieve a similar level of success!