A Commitment To Integrity and Excellence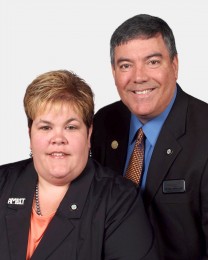 As an Air Force Academy graduate and former fighter pilot, Dundy Aipoalani is used to living under an honor code. And, as a former flight instructor and passenger plane pilot, he knows a thing or two about having other people depend on him. For him, Ambit's teamwork and integrity were a critical part of his decision to become a Consultant.
Beyond that, Dundy was looking for something that would give him more time to spend with his family. While his job as an airline pilot gave him the opportunity to see much of the world, it left him little time away from his career. When a friend from his church told him about Ambit, he was interested. "Senior Consultant Jeremy Maggio is the one who convinced me I had to do this," Dundy says. And he soon had even greater motivation—the Chicago-based airline Dundy flew for went through bankruptcy, and his pension was wiped out.
Writing His Own Ticket
For Dundy, the biggest challenge was getting his wife Holly to see the possibilities of Ambit. She was afraid that running a part-time business would cut even further into their already limited time together. He was also challenged by the fact that his home state of Pennsylvania was not yet open for Ambit business. However, a visit to the Women's Conference in 2012 convinced Holly to believe in the business, and Dundy was able to find customers in surrounding areas, even if it meant driving hours to meet with small groups. With the support of his team, his network of Consultants and Customers began to grow.
"I have recently brought my wife Holly off her job with the income Ambit is paying us," Dundy says. "I am thankful to work with a great team of Executive Consultants in western New York and Pennsylvania."
Soaring Into the Future
Dundy is already planning on becoming a National Consultant. "We've just opened three new markets in my area. There are so many opportunities right here in my back yard. I am focusing on training, training, training."
Making up for lost time drives Dundy to make the most of his Ambit opportunity. His wife Holly is working to help provide funding for "The House of Hope," a halfway house for women who are leaving the jail where she serves as a volunteer Chaplain. "To me, there is no better satisfaction than seeing someone's life change for the better," Dundy says. He also has advice for new Ambit Consultants. "Stay plugged in. Like anything else in life, if you want to be good, model yourself after others who are successful. Be in constant communication with leadership. Meetings are critical to working this business as a team. Invest in your future by going to AMBITION. It is a must-attend event!"
Dundy is committed to helping others reach the heights he has. "I am convinced Ambit is the single greatest income opportunity the average American is going to see in our lifetime. I am so glad we can dream again!"
Our "Why?"
More time with my family, and provision for "The House of Hope."
Time spent working our Ambit business:
Every spare second I can!
What was your single most-effective Success Tool, factor or influence for growing your business?
NC Chris and Debbie Atkinson's investment of time and leadership.
Name your favorite thing about AMBITION.
The relationships that are built.
Thanks to the five SCs who help us reach EC:
Sara Molidor, Christa Molidor, Gary Lynn, Ken Kendall, Zeke Kuzmanovich.
---
Featured Consultant
At Ambit Energy, we're inspired, proud, and even awed by the success stories we hear from our Consultants every day. Learn what motivates some of our top Consultants, read why they decided that Ambit was the right company at the right time, and maybe even pick up some inspiring tips to help you build your own business and achieve a similar level of success!