A Crash Course in Economics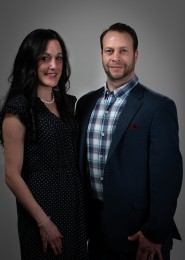 Jim Morton earned a good living from other people's mistakes – he repaired high-end automobiles that had been damaged in accidents. But he did more than restore expensive cars to pristine perfection. He wondered what the people who owned them were doing differently to be able to afford such luxurious machines. An avid golfer, Jim got in a few rounds with some of his customers and learned they all had one thing in common: leverage, whether it was someone else's time or money. As result, when he and his wife Jen heard about Ambit "we were prepared for the Opportunity when it presented itself. We had some network marketing experience before Ambit came along and while we'd never really had much traction with it, we'd gotten some leadership training."
While their previous experiences had ended badly, the Mortons knew Ambit would be different. "They were a solid company that you didn't need to worry about being there tomorrow. All you needed to do was focus on income-producing activities. Just put your head down and get to work," Jim says.
Crafting a Business
In the beginning, the Mortons set a modest goal. "We wanted Jen to be able to work part-time because of her illness," Jim recalls. "But our "Why" evolved with our business. Now Jen stays home full-time and helps raise our granddaughter.
Of course, this level of success didn't come easy. "We've put countless miles on the road and saw some of our teams leave to go to another company. We were close to being ECs before, but just couldn't get the traction, so we just kept showing the presentation, reaching out to people and planting seeds. Years later, some of the people we talked to came back and asked to join our team and that's what pushed us over the top.
"Looking back, the one thing I wish I'd done differently is joined Ambit sooner!"
Full Speed Ahead
For Jim and Jen, the future is as bright and shiny as the cars he works on. "We're dreaming again because we know we can achieve whatever we want through Ambit's vehicle," he says.
"It's revealed some hidden strengths and surprising talents. And I've been able to help some of my team members reach their true potential, too."
Moving forward, the Mortons hope to reach National Consultant by hosting more events, reaching out to new people and starting new businesses in new markets. His words of advice: "Take your foot off the brakes and don't be afraid of success!"
Five EC Pieces
My/ our "Why?"
My wife and I would like to be able to buy a piece of property in a warm climate and also own a home in the Northeast, so we will be able to come and go to the warmer climate when it's cold here in New England and come back for the spring. Oh yeah, almost forgot and never having to worry about punching into a time clock and building somebody else's dreams and goals.
Time spent working my/ our Ambit business:
We spend about 15 hours to 20 hours per week on the business between traveling, reaching out to new prospects and just doing general recordkeeping.
What was your single most-effective Success Tool, factor or influence for growing your business?
The single most effective tool are the audio CDs that were able to play in a car. I call this University on wheels. It has been a huge influence in growing our business.
Name your favorite thing about AMBITION:
My wife and I agree the best time in AMBITION is the time spent with the leadership after the meetings rubbing shoulders with them!
Thanks to the five SCs who helped me/ us reach EC.
1. Bill Clinton
2. David Bailey
3. Leonard Braxton
4. Junior Cruz
5. Dianna Morano
---
Featured Consultant
At Ambit Energy, we're inspired, proud, and even awed by the success stories we hear from our Consultants every day. Learn what motivates some of our top Consultants, read why they decided that Ambit was the right company at the right time, and maybe even pick up some inspiring tips to help you build your own business and achieve a similar level of success!