A Dream Deferred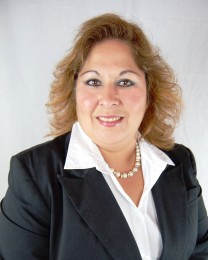 From the time she was a little girl, Maria Lourdes Cardenas dreamed of being a high-powered executive working for a major corporation. But for her, as is so often the case, life took her down a different path. While she was still a college student, she got pregnant. And, to add to her challenges, her baby boy was born with special needs, forcing her to stay home and care for him while her husband worked.
Dreaming of a better life for themselves and their child, the couple immigrated to the United States. Despite their hopes and her husband's hard work, the young family was still unable to get ahead. They were deeply in debt, and while her son's starting school gave Maria time to work, she was unable to bring in enough money to improve their financial situation.
That's when she heard about the Ambit Opportunity. "It was then God opened a door—even though I was somewhat incredulous, I could see a light at the end of the tunnel," she says. At first, Maria only saw Ambit as a chance to reduce her electric bill. She understood the principle of making money with Ambit, but she was unsure if she could do it. Then, it hit her—"To make your dreams come true you need to wake up."
Waking Up to Her Potential
"Ambit Energy provides you with an opportunity to be part of a company with tremendous growth, one that allows you your own personal development and a unique opportunity to earn money in your free time and from home," Maria says. Motivated by her two sons, she began to work the program and expand her business. "Ambit Energy has backed me and thanks to that I have overcome many fears. They have great technical support and the Customers trust them."
As her business grew, Maria noticed that "a window was opening more and more. The night I became an Executive Consultant was a very important stage in my life as a woman, a wife and a mother. I feel very proud of achieving one of the most important objectives in my professional life."
Making Others Dreams Come True
"I will feel even happier when I see my team members reach this level," she says. "That's why I encourage and teach them, and provide them confidence." Maria plans to keep working to improve herself and grow her team. She looks forward to being able to provide her older son with the therapies he needs to lead the best life possible, and to helping build opportunities for others in the Hispanic community.
Her advice to other Consultants is simple. "No great work in the Universe was created without enthusiasm. You make the difference. You cannot change your past, but with Ambit you can change your future."
My "Why":
To provide a better quality of life for my children
Time spent working the Ambit business:
From six to eight hours, or whatever necessary to reach my goals.
What was your single most-effective Success Tool, factor or influence for growing your business?
Success starts by believing in yourself. You make the difference.
Name your favorite thing about AMBITION:
Listening to the testimonies of successful people.
Thanks to the five SCs who helped in the promotion to Executive Consultant:
Zozimo Cardenas ,Veronica Mojica, Petra Voctoria JUarezm Zaida Barrios and Rosa Maria Del Angel.
---
Featured Consultant
At Ambit Energy, we're inspired, proud, and even awed by the success stories we hear from our Consultants every day. Learn what motivates some of our top Consultants, read why they decided that Ambit was the right company at the right time, and maybe even pick up some inspiring tips to help you build your own business and achieve a similar level of success!