A Family Affair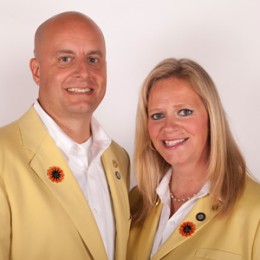 Tim & Missy Ulinger were introduced to Ambit by Tim's cousin Mike Bauer. "Mike had only joined Ambit a couple weeks earlier, but after seeing the presentation I joined on the spot."
Of course, being in a family business was nothing new for Tim. In addition to his career as a police officer, he and his wife own a maple syrup farm producing 2,500 gallons a year as well as a number of rental properties and a landscaping company. He's also recruited other family members to Ambit—his brother is an SC and two of his cousins are RCs.
Spotting a sweet deal …
Despite the success of their maple syrup company and businesses, Tim often had to take overtime shifts with the police force just to make ends meet. His wife, Missy, juggled the responsibilities of managing properties with those of running a landscaping company. And they both had to care for their five children. "I saw the amazing potential for earning right from the start," Tim says. "How could you go wrong with a product that everybody already uses? And I never have to worry about product or inventory." Tim's goal was to create a residual income that would replace his main income as a police officer, and allow him and his wife to start saving for their children to go to college.
…and enjoying the taste of success.
"We were doing well for ourselves before, but we never had that little extra cushion we needed," Tim says. "Our friends and family are definitely seeing a difference in our lives now. I bought my wife her first-ever new vehicle for her birthday, and my family notices I'm around now on holidays and doing more with the kids because Ambit is doing so well I can turn down overtime."
While Tim is still not able to work Ambit full-time, he finds he's able to devote more time to it than before. He finds the time he invests in working Ambit is far more profitable and less stressful than working overtime.
On AMBITION
Tim attended his first AMBITION just six weeks after joining Ambit. "It's great to meet other consultants from all over the country and discuss what has worked or hasn't worked for them. It's very important to meet the co-founders and understand the integrity and honesty they promote throughout the company. I would encourage any and all consultants to get to every AMBITION."
The power of teamwork
One of Tim's favorite aspects of working the Ambit opportunity is the teamwork. "I have an absolutely amazing team under me. There have been so many leaders and rising stars in my team. I love meeting new people and the good feeling it gives you to know you are helping them," Tim says. "We enjoy working with our team and hope to help as many of them as possible to have the success we have had with Ambit."
In the future, Tim and his wife look forward to becoming NCs and selling off their other businesses and rental properties. They are also glad Ambit has given them a chance to send their kids to any college they choose. "My daily goal remains the same. Every day I show the plan, work with my team and try to help as many people as possible achieve the financial freedom I have." With a work ethic like this, Tim and Missy are on their way to National consultant for certain.

My "Why?"
Spending time with my family and providing my children with a future that allows them all the choices they deserve.

Time spent working Ambit
The hours I put into my Ambit business varies week to week. Usually 10-30 hours per week.
Most-effective Success Tool, factor or influence for growing the Ambit business.
The guidance from my mentor, NC Chris Atkinson.
Favorite thing about AMBITION.
The opportunity to spend so much time with the leaders in the business and ALL the energy and excitement that it brings to the entire organization.
Thanks to the five Senior Consultants who helped us become an EC.
Matt Tartick, Dr. Peter Rivoli, Lenka Ritts, Dave Larkin and Kirk Brumagin
---
Featured Consultant
At Ambit Energy, we're inspired, proud, and even awed by the success stories we hear from our Consultants every day. Learn what motivates some of our top Consultants, read why they decided that Ambit was the right company at the right time, and maybe even pick up some inspiring tips to help you build your own business and achieve a similar level of success!