A Family Business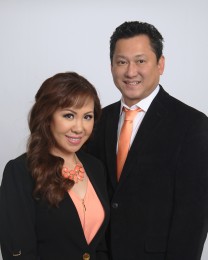 For Danny and Islie Tau, Ambit Energy really is a family business. "Family is the key and what drives us to action," says Islie. But working to create a better life for the couple's two children is just part of the story. Because the Tau's introduction to Ambit also came from a family member.
"My brother, Justin Zhang, introduced us to Ambit," Islie says. "Initially, we thought the timing wasn't right for us, with a newborn and a father-in-law who was diagnosed with lung cancer. But the opportunity was just too good for us to pass up." The Taus liked the fact that their Customers wouldn't have to change their buying habits and that there is a constant need for gas and electricity. They were also impressed by Ambit's track record of success and lucrative compensation plan. They knew that this could potentially be another stream of "recession-proof" income. Despite their hectic schedule, they thought that they'd give it a try on a part-time basis since it's a service and not a product and everybody uses energy. Although neither of them had any formal sales skills training nor network marketing experience, Ambit's easy-to-follow proven system allowed them to achieve this milestone.
California Dreaming

The Tau's believe that their timing in the California market played a major role in their success. "Most people we approached were unfamiliar with energy deregulation," Danny says. "The open market in our area helped us grow a prosperous business."
In fact, the Tau's were caught off guard by just how successful their Ambit business became. They thought they would try it for a couple of months to see how it worked, but after only a few months they had a team of 300 Consultants. "We were surprised at how our team grew exponentially," Islie says. "None of this could have happened without the passion and dedication of everyone on the team."
"We didn't know how much we complemented each other before Ambit," Danny adds. "Islie is more outgoing and enjoys recruiting potential Consultants. I'm more detail oriented. It worked out beautifully for us."
By supporting each other, attending trainings and applying the 5-2-6 formula, the Tau's soon had a booming business.
Sharing Their Success
One of the Tau's primary goals as they move forward is to help more people achieve Financial Freedom. "We want to improve people's quality of life by helping leaders build more leaders," Danny says. "We're in it for the long haul."
The couple also looks forward to growing their network, moving into newly deregulated markets and adding important new products like solar. "We look forward to the future with great anticipation and know that even better days are ahead," the couple says.
As for new Consultants, the Tau's recommend, "Be coachable and don't reinvent the wheel. Plug into Ambit's proven system. Never quit, especially after the first few rejections. Stay focused with a consistent plan and you'll reach your destination."
For Danny and Islie Tau, following that advice has worked out better than they ever anticipated.
Five EC Pieces
My / our "Why?"
Our "Why" is to achieve financial and time freedom so that we can create generational wealth for our children with a future that allows them choices.
Time spent working my/ our Ambit business:
It varies 5 to 15 hours a week.
What was your single most-effective Success Tool, factor or influence for growing your business?
Inviting prospects to weekly presentations, home meetings, and Success From Home Magazine.
Name your favorite thing about AMBITION:
Being around energetic and like-minded people, learning from leaders, announcements of upcoming promotions and new markets.
Thanks to the five SCs who helped me/ us reach EC.
We want to thank our five SCs that took this journey with us – Shahid Saleemi, Hassan Jakhar, Robert Tanner, Javaid Iqbal, and Andy Pham.
---
Featured Consultant
At Ambit Energy, we're inspired, proud, and even awed by the success stories we hear from our Consultants every day. Learn what motivates some of our top Consultants, read why they decided that Ambit was the right company at the right time, and maybe even pick up some inspiring tips to help you build your own business and achieve a similar level of success!