A Family Operation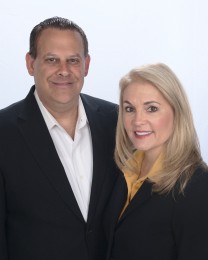 Dr. Ari Ben-Yishay and his wife Barbara, a registered nurse, run a busy spine surgery practice in Northern New Jersey. They also own three restaurants and real estate in the area. Add in four active children and taking on another business might seem like a bit much. But they had their reasons.
"We understood the power of getting involved in the largest deregulation in history," Ari says, "and we wanted to be part of it. When our neighbor at our vacation house told us about the opportunity, we signed up as consultants on the spot."
For Ari and Barbara, Ambit is also something they can pass on to their children. Barbara notes "this will be something to give them one day and allow them to pursue whatever dreams they have without financial worries or concerns."
A Clinical Approach To Success
Ari and Barbara believe in hard work and following the Ambit system. "Keep showing the plan and follow the proven system," Barbara says. "Even if things start off slowly, you will find your "pearls" who will take your business to higher levels than you ever thought possible. Work tirelessly with your team members—do the in-home presentations, train them, and take pleasure in helping them get promoted."
Like many top Consultants, Ari finds the rewards are more than just financial. He's improved his skills of speaking in front of large audiences and also enjoys the sight of his Consultants achieving their financial freedom. Ari and Barbara's success has also resulted in a Five Star trip, being asked to speak on stage in two Simulcasts and appearing on the cover of Success From Home magazine.
It all makes for an impressive bottom line. "We have over 1,600 downline Consultants and over 14,000 Customers. We also get frequent "Thank You's" from our Customer friends for the savings."
A Good Prognosis For The Future
Moving ahead, Barbara sees a bright future for the Ambit business and her family. "Ari and I see ourselves relaxing a bit more, focusing more on our family and our own personal development and helping others achieve their dreams. We will cut back on the amount of time spent practicing medicine, but will continue to treat patients for the privilege of doing so."
They also plan to work more with Consultants who want to reach National Consultant status. "We're going to work with the people who want it worse than we do," Ari says. "As John Maxwell advises, we're going to spend 80 percent of our time with the 20 percent putting in the most effort."
"Our EC status is validation to us that with focused effort and persistence, one can truly exceed their goals and expectations."
And that's a prescription for success anyone can follow.
Our "WHY":
Our "Why" is four children and the financial security this will bring them.
Time spent working the Ambit business:
Our time working Ambit is growing and is becoming more productive and enjoyable.

What was your single most-effective Success Tool, factor or influence for growing your business?
Our credibility and success in our real life endeavors has propelled our Ambit business forward.
Name your favorite thing about AMBITION:
The excitement, the camaraderie and time spent with new friends.
Thanks to the five SCs who helped in the promotion to Executive Consultant:
Bill Thomson, Jeff Rizika, Douglas Holden MD, Paul Criscuolo and Alex Urrea
---
Featured Consultant
At Ambit Energy, we're inspired, proud, and even awed by the success stories we hear from our Consultants every day. Learn what motivates some of our top Consultants, read why they decided that Ambit was the right company at the right time, and maybe even pick up some inspiring tips to help you build your own business and achieve a similar level of success!