A Healthy Choice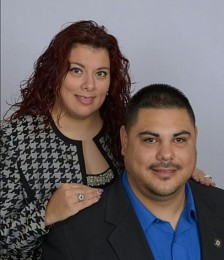 Most people don't start selling Ambit for their health. But that's what Silvia Serna did. After 15 years, the stress of her job in the medical field had taken such a toll on her physical well-being that she was looking for a new opportunity.
When her brother Pedro Herrera first mentioned Ambit Energy to her, Silvia passed on the opportunity. "I had a full-time job, two small children and my previous experience with MLM companies left a bad taste in my mouth," she says. Instead, she went back to school and studied for a new career. After a short time though, she saw the success Pedro was having and decided to give Ambit a try. "Soon after joining, I was receiving weekly checks. That's when Mark and I realized this actually worked." In fact, Silvia was so confident of success that she quit school to focus on Ambit full time.
Teaming Up for Success
As Silvia's business grew, her husband Mark became more and more important to her success. Initially, he not only worked his full-time job, he supported her by taking care of the kids while she worked her Ambit business. Over time, he became more and more involved and he, too, plans to retire from his job and be a full-time Consultant.
"Our families have been very supportive, with some joining the business as well," Mark says. "We're especially grateful to my brother Pedro for introducing us to Ambit," Silvia adds. "Without him we wouldn't be here.
That spirit of family carries over to the Sernas' dealings with all their Consultants. "We help them discover their potential and strengths. We work to help them achieve their short- and long-term goals," the Sernas say. It's providing this network of support and training that has helped Silvia and Mark successfully promote through the ranks.
A Prescription for Growth
The Sernas have worked hard to not only grow their Ambit business, but to ensure their team members learn to succeed, too. "We want our Consultants to be independent, not dependent," they say. "Many don't want to do the work to be successful. I sponsor and teach people who want to succeed as badly as they want to breathe," Silvia says. "It's okay to start over or reroute, but never give up on where you want to go," adds Mark.
Both remind new Consultants that following the Ambit system is the key to success. "Being coachable and being plugged into the system helps you stay disciplined and overcome the challenges life throws at you. The rewards are new personal strengths and Financial Freedom," the Sernas say.
For this couple, choosing Ambit has led to less stress and a healthier family life. "We have more time to spend with our kids and more time to travel."
Moving forward, the Sernas hope to continue to learn and to help others. Given their track record, that looks like a pretty good prognosis.
My/ our "Why?"
My family
Time spent working my/ our Ambit business:
A few hours each day
What was your single most-effective Success Tool, factor or influence for growing your business?
PowerZone, Trainings and AMBITION
Name your favorite thing about AMBITION:
Being around great leaders

Thanks to the five SCs who helped me/ us reach EC.
Rachel & Chetan Garg, Liz Rivera, Queren Ortiz, Clara Reynaga, Priscilla Sanchez
---
Featured Consultant
At Ambit Energy, we're inspired, proud, and even awed by the success stories we hear from our Consultants every day. Learn what motivates some of our top Consultants, read why they decided that Ambit was the right company at the right time, and maybe even pick up some inspiring tips to help you build your own business and achieve a similar level of success!