A Journey That Would Come Full Circle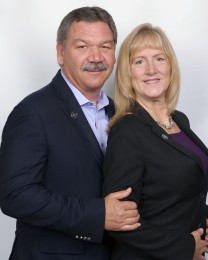 After high school, Ronnie and Carla Johnson set out on paths that would lay a foundation for their future success. Ronnie enlisted in the United States Navy and served one tour overseas. During his time in the military, he learned leadership and responsibility. When he came home, Ronnie found a job in the heating and air conditioning industry. Throughout his 35-year career, he worked his way up from an installer to management and was successful in bringing several divisions out of debt.
For her first job, Carla worked as a door-to-door Kirby vacuum salesperson. She was the top seller in her district after her first three months. "I was on the path of entrepreneurship, and I didn't even know it!" Carla enjoyed the freedom she experienced in sales and knew that she wanted to be her own boss.
A Perfect Fit
The fall of 2012 was a difficult time for the Johnsons. Ronnie's payroll checks were bouncing, and they were struggling to simply put food on the table. They first heard about the Ambit Opportunity in December of 2012, when their friend bought the November issue of Success from Home magazine which included an introduction DVD. He'd watched the video, joined right away, then shared the Opportunity with the Johnsons.
After praying and thinking about what would be best for their family, Ronnie and Carla decided to join. They understood the Opportunity and the freedom that came along with it. "[It] was a no brainer," Carla says. With Ronnie's experience in the energy field and Carla's entrepreneurial background, they knew Ambit was a perfect fit.
Moving Forward with H.O.P.E
While the Johnsons still faced other challenges, they never gave up on their goals or their Ambit team. They named their team H.O.P.E (Helping Other People Excel) and have done just that. The Johnsons initially joined Ambit to provide for their family, but it grew into something much bigger. Now they want to share the Opportunity as much as they can and help others overcome their financial struggles.
Moving forward, the Johnsons hope to personally enroll 100 MCs. Ronnie and Carla want to continue to grow their business by getting more involved in local meetings and reaching out to other successful ECs. They want to encourage new Consultants to always attend meetings and stay connected with their teams.
The Johnsons love the quote from Zig Ziglar: "You will get all you want in life, if you help other people get what they want."
Five EC Pieces:
Our why:
To work with a company where there is no greater satisfaction than to see people we have mentored and helped achieve their dreams. It's the best feeling in the world.
Time spent working our Ambit business:
Two weekly Opportunity Overview meetings, two to three one-on-one trainings per week, and 30 minutes a day listening to calls, working on personal development, or doing follow-ups.
What was your single most effective Success Tool, factor, or influence for your growing business?
The three-foot rule: to talk to anyone within arm's reach and get their contact information, then follow-up. Invite, invite, invite!
Name your favorite thing about AMBITION:
The inspirational and motivational speech given by Co-Founder and Chief Marketing Officer, Chris Chambless, at the end of the conference.
Thanks to the five SCs who helped us reach EC:
Juan Meza, Mark Coffield, Cricket Taggart, Billy Pointier, Dora Lerma
---
Featured Consultant
At Ambit Energy, we're inspired, proud, and even awed by the success stories we hear from our Consultants every day. Learn what motivates some of our top Consultants, read why they decided that Ambit was the right company at the right time, and maybe even pick up some inspiring tips to help you build your own business and achieve a similar level of success!