A Lifetime of Commitment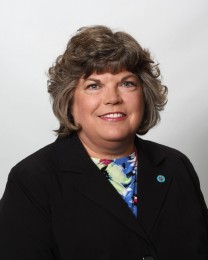 Jeannie Smith has always been committed to helping others. She began her career as a Registered Nurse specializing in cardiac care and chemotherapy, and has devoted countless hours to organizing parades, circuses, parties and fundraisers to benefit Shriners Hospitals for Children. Somehow, in between all that, she's managed to find time for her husband of 32 years, John, and son Sean, a star football player at Iowa State.
More recently, Jeannie has taken her talents to a career in the collections business, where she was named a "Top Gun" for six straight years in the Midwest Region. However, after undergoing a serious surgery, she found herself dreading a return to work. That's when a friend told her about AMBIT.
"I was impressed that you were selling something everybody uses and you don't have to beg someone to buy something they don't need. I shared the idea with my Dad who said it looked good and that I should 'do it.' All I had to do was figure out how to work it from Missouri, a non-deregulated state."
Pursuing an opportunity—four hours each way
Soon after she signed up, Illinois joined the list of deregulated states. Pursuing this new market meant that Jeannie had to make an eight-hour round trip to host meetings and training sessions, but her sacrifice was worth the effort. "My monthly residual income started to double and triple," she says. "And I met so many great people."
"I want to live a retirement life that allows me to travel and enjoy my family, and to continue to support my two philanthropies, the Shriners Hospitals and the Marine Corps Detachment, so I can continue to help change lives."
Her AMBIT business has also provided Jeannie with opportunity to grow as a person. "I've learned my greatest strengths are my abilities to lead and to organize. I didn't realize until AMBIT how underutilized those strengths were in my previous jobs. No one ever cared about how I excelled before, but now I see the direct results in growing my own business."
Helping others discover their potential
Jeannie's goal is to help others discover their potential, too. "I want people to learn from my experience of building a business outside of a deregulated area. I start my new Consultants with "Ambitious Jeannie Boot Camp" and try to keep them on track to their next promotion with their "Magic Number."
Her advice to new Consultants is simple. "Do something every day to further your business and operate by the "Three-foot Rule." " If I can do it from Missouri, you are sitting on a gold mine in a deregulated state."
For Jeannie Smith, a commitment to AMBIT has paid off with ever-growing success for her and her family.
My "Why?"
Retirement
Time spent working Ambit Energy
It is my full time focus now, so I plan two week long trips each month to work Ambit in a deregulated area.
What was your single most-effective Success Tool, factor or influence for growing your business?
Hosting the Illinois meeting made me become efficient at helping people get what they want, whether it be as a consultant or a customer.
Name your favorite thing about AMBITION.
Listening to Jere and Chris' speeches on their experiences and life lessons.
Thanks to the SCs who helped me reach EC:
Wayne and Bobbye Hanks, Ron Haught,Jr., Mike Hutcheson, and Sean Smith.
---
Featured Consultant
At Ambit Energy, we're inspired, proud, and even awed by the success stories we hear from our Consultants every day. Learn what motivates some of our top Consultants, read why they decided that Ambit was the right company at the right time, and maybe even pick up some inspiring tips to help you build your own business and achieve a similar level of success!