A Long Journey Leads to Success with AMBIT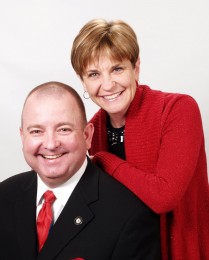 John Morrison traveled a long and interesting route to his role as an AMBIT consultant. His first gig was as a professional drummer, touring the world with leading performers, but eventually the long hours and travel got to be too much. John then became a football coach on the staff of Sam Houston State University, helping lead the team to the 1991 Southland Conference Title. Then, because coaching still required a lot of time and travel, John went into real estate when he and his wife Kelly decided to start a family.
John had settled into a successful, but time-consuming real estate career in the Temple-Belton area of Texas when he first heard about AMBIT from a fellow realtor, Jennifer Burns. Feeling he didn't have time to work another business venture, he turned her down. After two more people approached him about AMBIT, he and Kelly decided to reconsider. They signed up as part of Jennifer's team, and as John says, "the rest is history."
Learning the X's and O's of AMBIT
"I had realistic expectations, I was familiar with the compensation plans, and for the first time I felt like I was in the right place at the right time," John says. "We promoted to RC in six days, but it was a real battle to get promoted to SC, and a bigger battle to get promoted to EC. It was definitely frustrating at times, but if you plug into what AMBIT has to offer you can't help but get better as a person, business owner, leader, etc., simply due to the talent this company attracts."
There's no doubt that John and Kelly's hard work has paid off. "This business has allowed me and my wife to live the life we've always dreamed of. We are now full-time with AMBIT, and she can now be a wife and mom and do whatever she wants to. Thanks to AMBIT, our bills are paid every month with money left over."
Coaching others to success
As a former coach, John knows how to mentor and help others. He tells new Consultants to "plug in and hang around people that are getting it done. We can teach them how to make a contact list, how to do a three-way call and more. We can't teach them belief, passion, intensity and urgency. They have to get these by being around people who have these traits! They need to keep in mind they will become the average of the five people they hang around most. Will beats skill every time." John also believes that one of the benefits of AMBIT is that the system is designed to help you succeed.
"My experience with AMBIT has enhanced my strengths and talents. It's made me a follower, mentor and leader. If you're around quality people, it rubs off on you!"
John comes from a long line of successful people—his grandparents are in the Gospel Music Hall of Fame, and his father performed with Barbara Mandrell and other country superstars. Today, after outstanding careers in music, coaching and real estate, he's composing his own high-profile success story with AMBIT.
My "Why?"
Originally my family. We truly get a thrill and have a passion for helping others achieve their goals and dreams.
Time spent working the Ambit business
I recommend keeping Ambit on the front of your brain and just share Ambit with people you come in contact with during the normal course of your day. Make a friend and then make them a consultant.
What was your single most-effective Success Tool, factor or influence for growing your business?
My decision to "plug in" and never ever quit from day one.
Name your favorite thing about AMBITION.
The exciting announcements are my favorite part. Get your people to these big events and your business will explode!
Thanks to the five SCs who helped me/ us reach EC.
Don & Barbara Whatley, Mike Snow, Miguel Munoz, Koy Richter, and Bart & Diane Jenkins
---
Featured Consultant
At Ambit Energy, we're inspired, proud, and even awed by the success stories we hear from our Consultants every day. Learn what motivates some of our top Consultants, read why they decided that Ambit was the right company at the right time, and maybe even pick up some inspiring tips to help you build your own business and achieve a similar level of success!