A Man of Faith and an Ambit Believer, Too!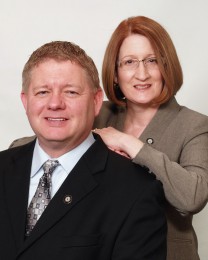 Having been in the ministry for his entire professional career, it was a unique decision for new Executive Consultant Dr. Ron Jenkins to start his Ambit Energy business.

"It has been my lifelong dream to help and encourage people," says Dr. Ron, a resident of League City, Texas. "It's my everyday passion – I love being in the people business."

When he was introduced to the Ambit Opportunity by a friend, he saw the business as a tool he could use to help people in their financial life. "I was very impressed with Ambit. It gave me the opportunity to help my own financial future and the future of others as well. I knew that so many people were hurting, and now I had another way to help others achieve their financial goals."

A LEAP OF FAITH
"Like a lot of people, my family asked 'what have you gotten yourself into this time?'" recalls Dr. Ron. "But I was convinced that the Ambit Opportunity was a great tool. I never even talked to my wife about it – I just came home after signing up [on May 29, 2009] and told her we were in the Ambit business!"

Naturally, his wife Janet was curious about the cost and how they would be able to earn their money back. "I told her we'd have our money back before the credit card bill arrived. And you know what, I did get my investment back by the time we go the bill in the mail. Was I ever glad of that!"

Despite some early doubts, Dr. Ron soon became confident that he could succeed with Ambit. "Especially now that I've been promoted to EC – my expectations have far exceeded that I thought Ambit would do for me," said Dr. Ron. "When I joined the team, I had several 'WHYs.' One was to help other people – which I've been able to do, and it's been very rewarding. Another was to help my three sons pay for college, and it's only because of Ambit that I've been able to help them get started on paying their loans."

FAMILY FIRST
Certainly, Dr. Ron was able to change his family's minds about the Ambit business. "In fact, they were very encouraging and are proud of my success. Our boys have seen our whole journey, and are now at the point where they will be in the Ambit business when they graduate from college."

And Dr. Ron is proud to be a part of the Ambit family as well. His sponsor was SC Sue Tombrella, and his upline leadership includes RC/SC Phil Toler, NC Debbie Atkinson and NC Philip Eckart.

"No doubt, the team I belong to with Chris and Debbie Atkinson has been a blessing. They have mentored me every step of the way – teaching me so in turn, I could teach my team." Every new team member gets a welcoming phone call from Dr. Ron, no matter when or where they come into the business. "I work hard at training them on the phone and helping them understand how to use their Dashboard. I also call them from time to time to check on them.

"I do all this because that's what my team taught me to do. And it's pretty cool seeing my team taking my lead and doing the same things for their team."

MAKING IT WORK
It took a few months for everything to click, but Dr. Ron likes to say that he came to a point where "it went from the head to the heart."

"When it reached the heart," he says, "I think about it all the time, I work on it all the time, and I am always looking for opportunities to share the Ambit Opportunity. My wife and I have become a team and we can't stop talking about it wherever we go!"

Although he's enjoying great success, Dr. Ron will continue to work his business on a part-time basis and focus on his ministry. "I suppose I can never fire my Big Boss," he chuckles. "So I do Ambit part-time. But I find time to go to as many meetings as possible, and attend every training event possible. Ambit just becomes a part of everything you do!"

LOOKING TO THE FUTURE
Like most Consultants, Dr. Ron's goal is to reach National Consultant status. But his ultimate goals are to set up his family with a solid financial future, as well as helping others in need. "I'd like to teach others to do the same thing we've been able to do, and achieve their goals and dreams."

"My advice for new consultants is to never, never stop doing the business. If it starts out slow, that's OK. Keep working hard and you will see success. Go to as many trainings as possible, go to as many weekly meetings as possible, and bring as many people as you can to meetings. Believe in yourself and your future!"
---
Featured Consultant
At Ambit Energy, we're inspired, proud, and even awed by the success stories we hear from our Consultants every day. Learn what motivates some of our top Consultants, read why they decided that Ambit was the right company at the right time, and maybe even pick up some inspiring tips to help you build your own business and achieve a similar level of success!