A Military Match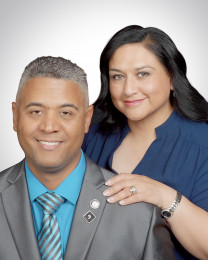 Miguel and Itza Munoz met at Fort Bragg, North Carolina in 1999 while they were both serving in the military. Later, he was medically discharged and began to work as a Network Administrator while Itza pursued her military career. But it was when the couple moved to Killeen, Texas, near Fort Hood, that their Ambit journey began.
In 2009, after years of moving around the world because of Itza's deployments, they bought their first home. "After 10 months, I was fed up with high electricity prices," Miguel says, "including a bill for $406.45. I thought my insulation wasn't good, and found an insulation installer named Richard Riley who happened to have also started Ambit a week earlier." Richard talked to Miguel about Ambit, and the Free Energy program. Intrigued, Miguel attended a business presentation. But he wouldn't sign up unless Itza agreed.
Which was a bit of a challenge. Because Itza had been deployed overseas. He sent her the link, and she agreed that Ambit looked like a good idea.
Even More Challenges
Miguel was juggling a full schedule—taking care of two children while his wife was serving overseas, studying for a second degree, getting a real estate license and starting an Ambit business. Something had to give. He decided to focus his energy on his family and his new business. He also had to be a source of strength for his family when his mother and a younger brother died in the same year. "Ambit was literally a blessing not only to generate extra cash, it helped me focus on honoring my mom and brother by accomplishing things that would make them proud," Miguel says. Another thing—as the money started to come in, Itza became more sure of the business. Soon, she was referring other military families.
A Perfect Solution
Now that their business is a success, Miguel considers it the perfect solution to their needs. "I don't have to look for a new job every time we move as a military family," he says. "I have been able to stay home with our kids while my wife continues to serve and protect our country in the military." And now, with Itza soon to retire after a successful career in the Army, the couple looks forward to growing their business together, as well as enjoying some well deserved time traveling and visiting relatives.
Of course, creating the perfect solution takes dedication and work. Miguel suggests that new Consultants "do something for their business daily. Always plug into everything you can. That means attending all events, especially regional and national events."
That's good advice coming from a couple who have served their country and their fellow Consultants by setting an example of hard work and dedication.
Five EC Pieces
(please keep your answers in this section brief - no more than one short sentence)
My/ our "Why?"
For our family, time is the most precious commodity so spending time as a family is very important and Ambit allows us to do that.

Time spent working my/ our Ambit business:
Even though we do this business part-time we believe we take our business everywhere we go but we do 8 to 10 hours a week.

What was your single most-effective Success Tool, factor or influence for growing your business?
If I have to single out one is the three way call one of my most trusted mentors was EC John Morrison.
Name your favorite thing about AMBITION:
My favorite thing about AMBITION is meeting Consultants from all over the USA and the announcements

Thanks to the five SCs who helped me/ us reach EC.
We want to thank Becky Barlett, John Woods, Joshua And Shanda Bohannon, Dr. Rory Lewis and William Ortiz for all their hard work to promote and help us promote.
---
Featured Consultant
At Ambit Energy, we're inspired, proud, and even awed by the success stories we hear from our Consultants every day. Learn what motivates some of our top Consultants, read why they decided that Ambit was the right company at the right time, and maybe even pick up some inspiring tips to help you build your own business and achieve a similar level of success!