A Model Opportunity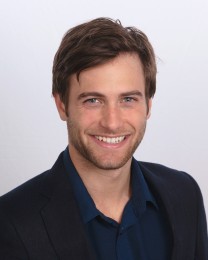 As a young man, Lukas Moffett had tried a bit of everything—installing Christmas lights, waiting tables, working as a jeweler, promotions and even modeling for high-end retailers. However, none of these offered the stability and long-term opportunities he was seeking.

"My dad was in the million-dollar club in another MLM company, so I had spent most of my life around the business model," Lukas says. "I always knew I wanted to create a residual income for myself, I just hadn't found the right company."

Then, during a slow time, his friend EC Randy Cox showed him the Ambit Opportunity. And the timing couldn't have been better.
A Powerful Business Model
Lukas says "I was impressed by the people and the compensation, but mostly by the electricity and gas service. Everyone has to use it, and we can help them get it for free!" Indeed, Lukas was so impressed by what he saw he set some unrealistic expectations. "I thought I'd be an Executive Consultant within my first month in the business, but it took me three years."
Still, what started out as a way to supplement his modeling income during the off-season has turned into an opportunity to become financially free. "I see my residual increasing every month, and I am very optimistic about reaching my goal."
Life Lessons and a Lifetime of Opportunity
While many find working with Ambit a chance to learn new skills, Lukas has found it humbling. "I thought I was going to be the best thing to ever happen to the company. How I have been humbled. I have discovered I suffer from a lack of patience, horrible leadership and an aversion to teaching. I have worked on these areas for the last three years, but I still have mountains to climb."
Despite his stern self-assessment, Lukas does believe he brings a positive mental attitude to his team. He works hard to stay in contact with his Consultants and to keep them focused. "The phrase 'never quit' is overused to the point of being a cliché, but it is true. I have walked away many times, but I always came back and I eventually made it. I want to become a great leader and help many other achieve their goals in Ambit."
A Great-looking Future
With Ambit, Lukas anticipates a great future. He hopes to start adding ECs to his team quickly and he believes that he will achieve even greater things while helping others. "I'm a dreamer," he says. "I like to shoot big."
So far, Lukas has been a model of success.

My "Why":
To have the freedom to choose what I do and when I do it.
Time spent working the Ambit business:
3.5 years

What was your single most-effective Success Tool, factor or influence for growing your business?
The in person business presentations. NC Justin Title and EC Randy Cox have been instrumental influences.
Name your favorite thing about AMBITION:
The announcements
Thanks to the five SCs who helped in the journey to becoming an Executive Consultant:
Thomas Avery, Charley Carroll, Karl Drexel, Rick Moffett, Lauren Tussing.
---
Featured Consultant
At Ambit Energy, we're inspired, proud, and even awed by the success stories we hear from our Consultants every day. Learn what motivates some of our top Consultants, read why they decided that Ambit was the right company at the right time, and maybe even pick up some inspiring tips to help you build your own business and achieve a similar level of success!