A New Plan for Success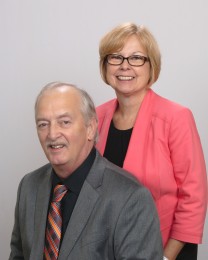 A New Plan for Success
Debbie Stutzman's Plan A worked for 20 years. She built a successful career selling a product she loved for a company she believed in. But when that business was sold, the new owners filed for bankruptcy. "I was 50 years old," Debbie says, "and I didn't have a Plan B. I went to work for a local bank, but I realized corporate America owned me and my time."
Debbie's job at the bank left her with less income and less free time than her successful direct selling business. That's when some former associates from her old business invited Debbie and her husband Roger to take a look at Ambit Energy.
"We saw an opportunity to walk away from the bank and grow Ambit abundantly," Debbie says. That, and her confidence in her friends encouraged her to sign up with Ambit right away.
Implementing the Plan
While Debbie was quick to spot the power of the Ambit Opportunity, she admits she wasn't quite as fast to find success as she'd hoped. "In the beginning, we tried to do things our way. We should have stuck to the Ambit System. Continually add to your list, show the plan and use the three-way call. It's a proven system that works." Soon, though, Debbie and Roger learned how to take advantage of Ambit and its support system. "Like Roger says, when you join Ambit, you join a big family. Everyone is willing to help and are just a phone call away."
Debbie and Roger themselves exemplify that attitude. They are always willing to help team members with advice for one-on-ones, hosting in-home parties and three-way calls. They've become friends with many other Consultants, and enjoy time outside of Ambit with them as well.
Next Steps
Having achieved so much, Debbie and Roger have firm plans to build on their success. "We want to accomplish the monthly corporate challenge for new ECs," she says. "We want to help the younger generation in our family have Financial Freedom, and the burning desire our Consultants have to grow keeps us motivated to help and support them whenever they need us."
She tells new Consultants to "follow your leaders, stay plugged into the system and attend as many trainings as you possibly can."
That sounds like a good plan, from someone who's plotted a successful course to a leadership position with Ambit.
Five EC Pieces
What was your single most-effective Success Tool, factor or influence for growing your business?
Roger and I were blessed with the leadership team in Pittsburgh. We were the adopted Consultants by the Mason team. We grew because of the support of Jim and Kim Mason, Marc and Christina Alfano, Greg & Fran Day, Justin Redpath and Val and John Candee.
Name your favorite thing about AMBITION:
AMBITION is full of excitement, fellowship and rewards. Most of all, there could be that golden nugget you picked up from someone that could explode your business.
Thanks to the five SCs who helped me/ us reach EC.
Steve Stutzman
Trish Thiel
Lisa Ervin
Christine Richards
Dana Helphenstine
---
Featured Consultant
At Ambit Energy, we're inspired, proud, and even awed by the success stories we hear from our Consultants every day. Learn what motivates some of our top Consultants, read why they decided that Ambit was the right company at the right time, and maybe even pick up some inspiring tips to help you build your own business and achieve a similar level of success!