A New Way to Bring Home the Bacon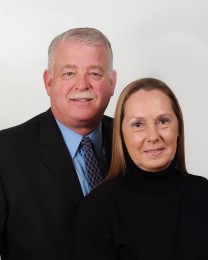 Gary Prenger grew up working in his parents' grocery business in Missouri, left to try other things, then came back to help expand the store into a small chain. But with a second heart attack by the time he was 48, Gary needed to make a change. After all, he had a wife (Carol), four grown children and nine grandchildren who wanted him happy and healthy.
In 2006, a friend called with a new opportunity, and Gary was ready to listen. "National Consultant Danny Kirby showed me the compensation plan and the way you could earn Free Energy," Gary remembers. "I told him I'd see him in Texas!" With his family having to stay behind in Missouri, and many trips back and forth, Gary knew there would be some serious challenges. But he believed in the Opportunity, and was excited to work with Jere Thompson, Jr., a CEO he could relate to.
Registering a New Level of Success
"My attitude was that there was no room for failure," Gary says. "I knew my success would be determined by me, and me only." Despite the positive attitude, Gary didn't see instant results. In fact, it wasn't until 2009 – while recuperating from an inevitable triple bypass surgery – that his partner, Danny, let him know their groundwork was starting to pay off. "I was finally earning residual income," Gary says. "And the monthly checks were getting bigger and bigger."
Just as important to Gary as increased income, however, is seeing the accomplishments of his team members. "Being able to help others achieve their dreams, and watching them change their families' lives, is a wonderful feeling," he says. "I'm the luckiest person I know."
Looking Forward to a Chain of Unbroken Successes
"My idol and mentor is my dad, Richard Prenger," Gary says. "He had a dream of owning his own business, and, surprisingly, family and friends told him he wouldn't make it. He showed me what is possible." For Gary, one of the best things about Ambit is that it creates generational income that can be passed on to his children and grandchildren. "Ambit has allowed me to share my passion for financial independence with others. You decide how much you want to earn."
He recommends that the best way to sell Ambit to family and friends is to use yourself as an example. "Show them how you've changed – how you're more energized, excited, happy and more committed to changing lives." He also recommends attending AMBITION to experience the excitement and growth of the company.
Gary wants to thank each and every consultant and customer for their support in Ambit . "I want to also give a special thanks to my family and my wife, Carol, who has always been supportive and taken care of the home front while I pursued the business and financial side of our lives. Also a special thanks to my sponsor, Danny Kirby and his wife Jeanette, for their support throughout this journey.
Finally I would like to thank a couple of people in North Texas that have become like my family. We are so thankful they reached out to us and shared the Ambit Opportunity (you know who you are). What an amazing journey.
It's this kind of attitude that's helped Gary build two successful businesses, and will surely help him achieve his next goal of becoming a National Consultant.
My "Why":
The huge income opportunity, especially residual income.
Time spent working my Ambit business:
I don't count the time. I just go have fun and help people.
The single most effective success tool, factor or influence for growing my business:
Following the System (5-2-6, 5-2-6, 5-2-6) and showing the video (over and over and over).
My favorite thing about AMBITION:
Seeing the excitement and growth of the company, as well as the Consultants whose lives have been so positively rewarded for their persistence.
Thanks to the five SCs who helped me reach EC:
Brent Cowden, Clint & Shana Hummel, Sidney Broussard, Jason Jewel and Denny Marquard.
---
Featured Consultant
At Ambit Energy, we're inspired, proud, and even awed by the success stories we hear from our Consultants every day. Learn what motivates some of our top Consultants, read why they decided that Ambit was the right company at the right time, and maybe even pick up some inspiring tips to help you build your own business and achieve a similar level of success!