A Passion for Music- and Helping Others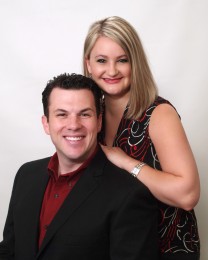 After an extended military deployment abroad as a U.S. Navy Reserve Officer, Chad Vermillion returned to the States – and to a very busy life. He and his wife Esther were expecting their first child, but they were living paycheck to paycheck and didn't have much left over to put away for retirement.
A professional software engineer, Chad had spent 14 years working in corporate development. But he's also a professional classical guitarist, and both he and his wife run their own music business.
"That's been the source of our part-time income for almost a decade," says Chad. "Without our music business, our budget would have been super-tight every month."
So it was pretty fortunate that Ambit Energy was about to come into their lives.
READY TO "POLITELY DECLINE"
"Our good friend Leah had invited us to dinner with her new boyfriend, (now Executive Consultant) David Spina," Chad recalls. "My wife mentioned that he was involved in 'some kind of network marketing thing selling electricity' that Leah had been talking to her about…and wanted me to ask David about it so we could politely decline to participate."
"Naturally, the "what do you do?" question came up during our conversation, and David began explaining what Ambit was all about. It actually made me very curious, because Esther and I had been talking about a life that didn't revolve around a corporate job that I didn't care about – while my family grew up without me around."
Of course, when Chad got home and told Esther that he had signed up to start their Ambit business, her reaction was "pretty typical" – "You did WHAT?!?" Luckily, after Chad showed her the business plan and explained everything, she agreed that it was a great opportunity and even exclaimed that "We know a TON of people who will want to see this!"
A TOUGH START
"Most people we knew were skeptical, and some were downright negative about it," Chad remembers. "However, we found a few people who did see the value in what we were doing and they joined the business. Even my dad was resistant at first – but he came to understand it after a phone call with me and David, and actually signed up as my very first Consultant!"
Of course, when the initial excitement calmed down, Chad quickly realized that "the business didn't just happen on its own – it required work and dedication."
"We worked very hard to promote to Regional Consultant in 12 days, but then it took us much longer to reach Senior Consultant level," he says. "My job at the time forced me to spend every Monday through Thursday out of state for an entire year – and we also dealt with two difficult pregnancies and another military deployment."
During that time, Chad got very frustrated and even somewhat discouraged, as he was unable to spend as much time working the business as he wanted. But he spoke to David Spina and his upline, and their support helped Chad to "keep going and stay focused."
FINALLY, MOMENTUM!
Chad then made the decision to spend "at least a few hours every Friday working the business when I was home – regardless of the outcome."
From then on, his business started to grow – "then a bit more, and a bit more, and then it finally happened – MOMENTUM! It started growing faster and faster – and now, not a day goes by that we don't see growth in our business."
He continues: "Our story is not one of people who just got lucky, or got rich quick, or found the right people right away. Ours is a story of consistency and commitment. We've had many hardships in our lives, but we made a decision to stick with our Ambit business – even when it was difficult." "And that's the beauty of it. Although we're very much committed to it, we only work this business part-time – and it makes us more money that we ever thought we could hope for."
"ENRICHED" BY HIS TEAM
Chad declares that his success is "a direct result of the dedicated people who joined our organization."
"Early on, we realized this is not a 'sales' business – it's a 'people' business. We've been so blessed to meet countless people of different backgrounds who have enriched not only our business – but our lives. We have grown so much as individuals from connecting with them, and working with them to grow their businesses."
"Working with everyone on our team has been a privilege, and we appreciate every single person."
STRIKE UP THE BAND
As professional musicians, Chad and Esther are thrilled to be able to spend more time on their music.
"Music is our passion, and Ambit has allowed us the freedom to play more," says Chad. "We can pick and choose the events we want to play for, and we have more time to use our gifts with our church activities and the community."
With their residual income from Ambit, Chad is able to pay all of their bills every month – and put away the extra income as well.
"We're taking a fully-paid vacation to England this coming fall – which Ambit is paying for in total. And of course, we're enjoying our free electricity, too!"
A FUTURE OF SUCCESS & SERVICE
On the business side of things, Chad has some lofty goals. "We want everyone on our team to see the magic that this business creates – and to experience true financial freedom in their lives."
And now that Chad and Esther will have more time to call their own, they have some important personal goals as well.
"Two things that have a special place in our hearts are orphans and military families. We want to start orphanages in 'third-world' countries, and also create a foundation to assist families of deployed and disabled military veterans."
AMBITION: AN "INVALUABLE" EXPERIENCE
As someone who has attended three AMBITION events, Chad is quite a fan.
"I credit AMBITION for both my SC and EC promotions. Having your team in attendance encourages them, motivates them, and ultimately gets them promoted."
"I think it should be mandatory for all Consultants to go to AMBITION," Chad claims. "The training and motivation you receive is invaluable to your success in this business. If you could do nothing else in this business, I'd say to put AMBITION above all else!"
That's good advice from someone who's a Navy man, classical guitarist, software engineer, husband and father. And one more important title: Executive Consultant!
---
Featured Consultant
At Ambit Energy, we're inspired, proud, and even awed by the success stories we hear from our Consultants every day. Learn what motivates some of our top Consultants, read why they decided that Ambit was the right company at the right time, and maybe even pick up some inspiring tips to help you build your own business and achieve a similar level of success!