A Perfect Storm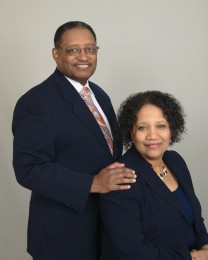 In 2006, Clayton and Alva Bourges were riding high. They owned a thriving company that had business and technology contracts with both federal agencies and Fortune 500 companies, and life looked like smooth sailing.
Then, in a short time, everything they had worked so hard to build was wiped out. Hurricane Katrina displaced many family and friends who needed help from the Bourges. Then, Clayton was diagnosed with a serious medical problem that required surgery. These twin demands forced them to cut back their hours, and eventually go into real estate, with the idea that more flexible hours would enable them to focus on health and family.
Little did they know their new careers as realtors would lead them to an even greater opportunity. But one night, a fellow real estate agent asked them to attend an Ambit Business Presentation. The Bourges immediately recognized Ambit's potential to generate residual income and signed up as Consultants.
Fast Firsts
"When we started as Consultants, we already had a background owning and growing a small business, so our approach was to hit the ground running," Alva says. And run they did, becoming the first Fast Track Senior Consultants in Virginia. This despite the fact that Ambit was not available in that state when the Bourges first started their business. "We had family and friends in states where Ambit did have service, so we built our business by leveraging relationships we had in those areas," Clayton says.
Their success continued after Ambit moved into Virginia. "We are proud to be the first Executive Consultants in the state, and even prouder of the training events we have hosted with our Virginia team and of the lives we have changed." The Bourges back up this talk with action—they host weekly calls with their team, host one-on-one and group training sessions and regularly host three-way calls. They've even set up a team website with additional training and support materials.
Storming Ahead
The Bourges are proud of their accomplishments, but they're not about to rest on their laurels. They are focused on earning those yellow jackets and have a plan to do so. "We're going to expand our team in our current markets, reach into new markets and facilitate events in a variety of locations," Alva says.
For new Consultants who want to emulate the couples success, Clayton has some simple advice. "Work hard and remain teachable. Don't give up and find a like-minded accountability partner who will provide support."
Together, the Bourges have overcome challenges and set the pace for their Virginia team, working toward achieving their financial freedom and helping others to do the same.
Five EC Pieces
My/ our "Why?"
Our why is to retire with dignity by having financial freedom, time freedom and building a legacy for our family.
Time spent working my/ our Ambit business:
We work our Ambit business about 30 hours a week.
What was your single most-effective Success Tool, factor or influence for growing your business?
The single most-effective tool for growing our business was attending and conducting weekly meetings and attending networking events.
Name your favorite thing about AMBITION:
Meeting other like-minded people from across the country and learning from all of them.
Thanks to the five SCs who helped me/ us reach EC.
We would like to thank the five SCs who helped us get to EC. These are: Aaron Gratz, Tammy Goodhope, Alicia Lucas, Michael Thompson and Valencia and Lydell Nash.
---
Featured Consultant
At Ambit Energy, we're inspired, proud, and even awed by the success stories we hear from our Consultants every day. Learn what motivates some of our top Consultants, read why they decided that Ambit was the right company at the right time, and maybe even pick up some inspiring tips to help you build your own business and achieve a similar level of success!