A Prescription for Success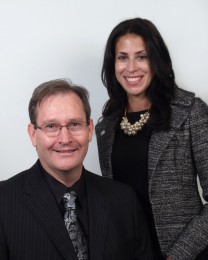 Ingrid Yardley has been a Registered Nurse in the Rio Grande Valley of Texas for 17 years. Her husband, David, is an Interventional Cardiologist. Despite being successful, their medical practice was demanding longer hours with declining reimbursement for their services. Understandably, Ingrid and David were concerned about providing for an early and secure retirement and affording college for their son.That's when Ingrid ran into an old college friend, EC Adriana Adams. Adriana had been active with Ambit Energy for years, and had already retired from her job. Ingrid and David immediately saw the advantages of Ambit-how it would produce a strong residual income, that it was a service, not a product and that they would not have to convince anyone to use it."I was not sure how big I had dared to dream, but I did see this was something I had to start," Ingrid says. "I saw the opportunity was truly unlimited and would allow us to retire with a stable income, earlier than previously anticipated."
Just what the doctor ordered
Ingrid and David made the decision to commit wholeheartedly to Ambit. As Ingrid explains, "We were able to merge David's practice into a multi-physician clinic, which has freed me from having a full-time job outside of Ambit Energy, and we look forward to the day when David can also focus fully on Ambit." Ingrid and David desire to make an impact, particularly in medical missions, by being able to give to organizations that they support, such as Doctors Without Borders. As with any new venture, although initially there were some challenges, family and friends were supportive of their new business. "It took time to learn how to do business effectively, but the process was enjoyable. We've worked hard to learn a different kind of leadership skill in this new profession. I have been able to watch many people join my team and develop skills and traits that will help them not only in their business but in their lives."While Ingrid is pleased with the success she and her husband have achieved so far, she continues to look forward to an even brighter future. "I see the opportunity to have time back with my family, and the security of knowing they are always taken care of."
Advice from the heart
Ingrid recommends that new Consultants be aware they are starting a business, get committed, focused and plug into the Ambit system. "Keep working and be persistent and you will achieve success," she says. Ingrid also suggests attending events like AMBITION. "It has helped us see how this business is going to grow, and gave us that extra resolve that solidified our commitment to this business. Now we know we will continue to the top. AMBITION helps you step out of your own life's limitations so you can see the sky is not the limit for your success." As Ingrid and David's success shows, Ambit is a great way to achieve financial freedom for anyone who's willing to invest a little time and heart into their efforts.
Our "Why?"
The reason we started our business with Ambit Energy is that we saw that it would allow us to have an early, secure retirement, put my son Caleb through the college of his choice, support charitable organizations and provide more time for us to spend with our family.
Time spent working Ambit
I arrange my schedule on Sundays & specify which follow-up and prospecting calls I will be making each day of the upcoming week. I also block out the one-on-one presentations and training sessions that I will be doing.
Most-effective Success Tool, factor or influence for growing the Ambit business.
The Success from Home magazine is my favorite success tool for growing my Ambit business.
Favorite thing about AMBITION.
The energy of seeing all the people together, the camaraderie, the trainings, but truly the highlight is hearing from the co-founders!
Thanks to the five Senior Consultants who helped us become an EC.
Tana Soltesz, Margaret Cervantes, Mary Gonzalez, Sergio Aguilar, Dr. Paul Manoharan
---
Featured Consultant
At Ambit Energy, we're inspired, proud, and even awed by the success stories we hear from our Consultants every day. Learn what motivates some of our top Consultants, read why they decided that Ambit was the right company at the right time, and maybe even pick up some inspiring tips to help you build your own business and achieve a similar level of success!