A Real Job, A Real Education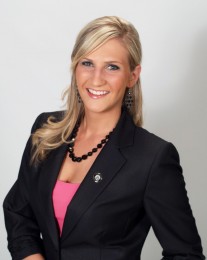 Kelsey Hicks started her AMBIT business while still a college student. Despite only having minimal work experience from a part-time retail job and the demands of being a student and a member of her school's dance team, she's still managed to become an Executive Consultant.
"I've worked so hard and put in countless hours to build my business," Kelsey says. "I've kept my perfect 4.0 GPA, and I've paid off my existing school loans and now have the ability to further my education without taking on any more financial burden."
While Kelsey's success is the result of her own hard work, she did have one advantage. Her mother, Deb, is an AMBIT Executive Consultant. While Kelsey was a little reluctant to follow in her mother's footsteps at first, a trip to AMBITION in 2010 changed that. "I saw the amazing co-founders and what the company really had to offer. I really envisioned myself in the business and saw how AMBIT could affect my future."
Learning from AMBIT
Working her AMBIT business gave Kelsey a real-world, business education in a hurry. "Being young, many people perceived me as having little knowledge of the electricity industry. I had to educate myself and prove I deserved to be taken seriously."
She's also grown and developed as a person. "I'm surprised by how much more outgoing I've become since I started my AMBIT business," she says. "I have learned to step out of my comfort zone and approach strangers to educate them about AMBIT. I am able to talk in front of large groups. I am committed to showing people there is more to life than working a job you hate. One of the things I love about this company is the difference you can make in a person's life by presenting the opportunity to them."
Kelsey also has a more long-term, business view of the world and her career than many of her peers. "Most of my friends my age can't see past the next month, they're more concerned with next week's exam or working to get their Friday paycheck. They don't see the long-term effect this business will have on their future," she says.
A degree, debt-free
When she first started working her AMBIT business, Kelsey's goal was to graduate without any college debt. Now, she envisions a whole life of financial freedom. "I've always wanted to be a mother, and AMBIT will allow me to contribute financially working from home while raising a family," she says. "I'm not even 21, and I've already accomplished more than many people older than me."
Kelsey also sees AMBIT as providing her with an opportunity to continue her education in the future. "I'm positive I have found my calling with AMBIT, but I believe the best investment a person can make is in themselves."
For Kelsey, AMBIT has not only provided her with a real business education, it's given her the opportunity to pursue her dreams.
My "Why?"
To become financially free at a young age so I never have to work a regular JOB.
Time spent working Ambit:
I make it a priority to meet people, work my list, and follow up on a daily basis.
What was your single most-effective Success Tool, factor or influence for growing your business?
The Energy 526 video and constantly handing out my business card.
Name your favorite thing about AMBITION.
Seeing all of the people on stage and hearing all of their success stories. I realized they're no different from me. If they can do it, so can I.
Thanks to the five SCs who helped me reach EC.
Eddie Barrientes, Kurt Petersen, Mark and Christy Adams, Kristen Kirk, and Lisa and Darvin Easter.
---
Featured Consultant
At Ambit Energy, we're inspired, proud, and even awed by the success stories we hear from our Consultants every day. Learn what motivates some of our top Consultants, read why they decided that Ambit was the right company at the right time, and maybe even pick up some inspiring tips to help you build your own business and achieve a similar level of success!