A Second Chance to DREAM and SUCCEED
John West, Executive Consultant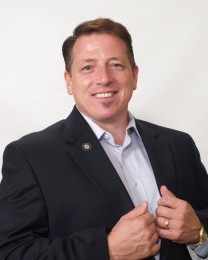 When EC John West joined Ambit, he saw the potential for unlimited possibilities. But faced with unexpected personal and financial challenges, John discovered the power of the Ambit Opportunity.
"Ambit is a company about second chances, real hope and being able to dream again," says John. "I'd love to tell you it was quick and easy making it to EC, but it actually took more than four years."
A husband and father of six, John had made a name for himself as a hard-working, successful businessman. Although his sales career had earned him a six-figure salary, it came at a price: "I had money but no time. I needed a better plan."
"I met David Spina at a business referral lunch and was immediately impressed that this young man was already financially free doing Ambit," says John. "David arranged a meeting at Ambit's corporate office in Dallas, where I met Jere Thompson. I was blown away that he took the time to greet me personally. I later told my wife: 'We HAVE to do this!' Although she was skeptical, she agreed and we signed up."
John quickly promoted to RC, then SC a few months later. Soon he had signed up his parents, two sisters and three brothers. He recalls, "Once I began hitting a comfortable monthly income from my Ambit business, I was ready to go full-time."
Life's Challenges Come Fast
About a month after John joined Ambit full-time, the family faced a major health emergency as doctors found a tumor on his wife's pelvis. Although it was non-cancerous, the traumatic surgery almost ended her life. After a month in intensive care and almost a year of home health care, their medical costs were astronomical.
When 2008's financial crisis struck, he remained focused on his wife's recovery, putting his business on hold. "I let my Ambit business go inactive for nearly a year and watched other Consultants pass me by," he admits.
John knew he had to find a full-time job, but with his former company closed and few options, he struggled to get a break, even with a degree and exceptional work ethic. "I changed jobs three times in 2008, trying to stabilize my income and get family medical insurance. It took a real toll on us personally." A Second Chance at Success
Throughout his struggles, John kept receiving residual income checks. One day he saw a news article featuring Jere, explaining how Ambit earned $200 million in its second full year. John decided he would not miss out again, thinking: "I had to get back in and make this work!"
Re-focused and recharged, he started again as SC. Soon, he was seeing results even faster than before.
"I helped three family members get to SC in the last two months. And with the team efforts of SCs Doc Gibbs and Roy Turner, combined with the tireless support of David and Esther Spina, I've been able to achieve my dream of becoming an EC!"
Special Thanks and Advice to Other Consultants
"I am SO excited for the future and look forward to the day I can do Ambit full-time!" exclaims John. "Thank you, Jere and Chris, for what you started. And special thanks for the encouragement and support of Mary Amoedo, Ken Doherty, Thien Bui, Liz Oliva, and of course, the Spina family."
John also has advice for Consultants facing struggles: "Ambit is such a blessing because it's always there, no matter what life throws at you. Don't be discouraged if you miss a goal at first. Just refocus, reset and never limit your dreams. When things get dark, look around - you have the support of a team dedicated to your success. So DREAM BIG, because no matter what life throws your way, you can always restart, rebound and reach further than you ever thought possible."
---
Featured Consultant
At Ambit Energy, we're inspired, proud, and even awed by the success stories we hear from our Consultants every day. Learn what motivates some of our top Consultants, read why they decided that Ambit was the right company at the right time, and maybe even pick up some inspiring tips to help you build your own business and achieve a similar level of success!