A Side of Success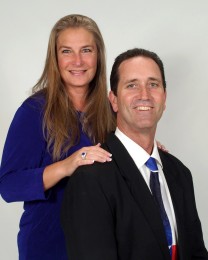 With eight children, a wife and a busy career as a battalion chief for the Austin, Texas Fire Department, Wesley Brace already had a pretty full schedule. Yet he was still looking for a business on the side to help him achieve some of his goals—like getting a nice spread of land he could share with his family. Not to mention keeping up with the day-to-day expenses of piano, violin, guitar and cello lessons for the kids.
One of Wesley's fellow firefighters suggested that he could save money on his electricity bill and told him about Ambit. "Sure enough I would have saved about $60," Wesley says. "That made the switch to Ambit a no-brainer." Intrigued, Wesley decided to learn more about Ambit and he was soon ready to sign up. "I had just purchased a new tractor with a hefty monthly payment. Our goal was to get to a point where our Ambit Energy income would pay that monthly payment—and it has since early on!"
Taking Charge Of The Future
"My wife and I soon learned we needed to think bigger than the tractor payment." Wesley says. He threw himself into personal development material, watching every Ambit training video, attending AMBITION, going to PowerTrips and taking part in Simulcast events.
While he feels he still has much to learn, Wesley credits those programs with helping him. "I am better at relationships and I am a better listener. Ambit has forced me to get out of my 'comfort zone' and I know that is where the growth is."
As he continues to grow with Ambit, Wesley hopes to repay his wife and family for their support with the increased financial security. With his Ambit Energy success he plans to retire early from his firefighter's job and spend more time at home with his children.
Blazing A Trail For Other Consultants
As he moves toward achieving National Consultant status, Wesley plans to improve in certain areas. "I need to develop the habit of making sure brand new consultants get all the help they need early. I also need to become better at presentations to share my knowledge and experience 'in front of the room.' This helps my team members benefit from what I have learned."
In addition, Wesley is planning to move in to new markets, like his home state of California. He also suggests that new consultants "treat Ambit like a million dollar business. Keep it high on your priority list and you will give it the attention it needs to thrive. You will push through the difficult times and soon it will be what you do."
Inspirational thoughts from an Executive Consultant who went from dreaming about paying off a tractor to living a better future for his whole family.
My "Why?"
To one day own thousands of acres in Texas.
Time spent working my Ambit business:
Started part-time; 10-20 hours a week, now getting close to full time.
What was your single most-effective Success Tool, factor or influence for growing your business?
Personal Relationship - sincerity and a real belief in Ambit Energy.
Name your favorite thing about AMBITION:
Visiting with the most amazing group of friends I have met in Ambit Energy and the announcements! 😉
Thank you to the five SCs who helped me/us reach EC.
Bob Bollman, David Daniel, Chris Pesce, John Groom, Mike Pelligrino
---
Featured Consultant
At Ambit Energy, we're inspired, proud, and even awed by the success stories we hear from our Consultants every day. Learn what motivates some of our top Consultants, read why they decided that Ambit was the right company at the right time, and maybe even pick up some inspiring tips to help you build your own business and achieve a similar level of success!