A Tangible Dream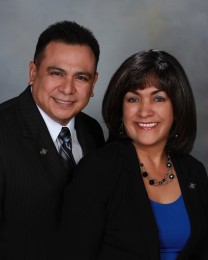 Manny and Rosella Salazar see their vision every day. Their dream come true is a 3000-square foot building of open space with seating for up to 150 people. It's the Odessa Leadership Development Center, a place they founded that serves as a learning and meeting hub for other local Ambit Consultants. "We have plenty of room to gather for live Business Presentations and we hold training held every Tuesday night," Manny said. It's an accomplishment made possible because of their hard work in their Ambit business.
Their path to owning their Ambit business wasn't a straight one. Manny and Rosella had previous experience with other network marketing businesses in addition to their professional careers. He's worked in the engineering and construction field for nearly 22 years, while she was a teacher before taking on a new role. "I retired from teaching after 15 years of service with the school district to be a full-time grandmother," Rosella said.
That change prompted them to look at things differently. Her move to being a full-time grandmother and a combined desire to delete their debt and supplement her income led them to take a look at the Ambit business. "We were literally working our tails off to keep customers in the product-based business and learned we were not building a true residual business. We figured our chances of keeping an electricity customer far outweighed the chances of keeping a customer spending money on physical products," Manny said.
Next Steps, New Moves
Their 'Why' pushed them to action. "The West Texas Economy can be brutal at times and we didn't have a "Plan B" in place. We wanted our Ambit Business to be able to secure our total living expenses," Manny said. It was the work to get to that "Plan B" and their next steps that pushed their business in the direction where they wanted it to be. Their expectations soon became reality. "Our expectation was to get Free Energy and generate income to supplement my wife's income; we qualified for Free Energy in six months," Rosella said.
That was one confirmation they needed that their Ambit business could get them closer to achieving their dreams. "My wife and I will cry tears of joy when this debt burden is forever gone," Manny said. Another confirmation was being recognized for the good job they were doing in growing their business. "One of our biggest accomplishments is receiving the first ever SC Dream Team Award at AMBITION 2014. This is an honor we will never forget as we were one of five SCs to win the award," Rosella said.
Their connection with others and teaching them how to run their businesses is what keeps Manny and Rosella going. They have lots of new ways in store for how they plan to help new Consultants. Their training center is a good start. They have the space, and the dream, to make it happen. But, first they have a few other things to do and accomplish. "Our next goal is we'd like to outgrow our current Training Center because we feel there are more people to help in our local area," Manny said. It won't be long before they're dreaming up the blueprints to a new building.

Five EC Pieces
Our "Why?"
We want to become debt-free and owe no one anything. We are tired of working for our money. It's time for our money to work for us. Our everyday life revolves around our family and we want to be able to leave a legacy and an inheritance to our children's children.
Time spent working our Ambit business:
8-10 hours per week.
What was your single most-effective Success Tool, factor or influence for growing your business?
We committed ourselves to Home Presentations every Tuesday Night.
Name your favorite thing about AMBITION:
Group Assembly at American Airlines Arena and feeling the electricity in the air!
Thanks to the five SCs who helped us reach EC.
Johnny and Pat Touchstone
Linda Navarro
Hector and Amber Magallanes
Raul and Pearl Zuniga
Raul Rios
---
Featured Consultant
At Ambit Energy, we're inspired, proud, and even awed by the success stories we hear from our Consultants every day. Learn what motivates some of our top Consultants, read why they decided that Ambit was the right company at the right time, and maybe even pick up some inspiring tips to help you build your own business and achieve a similar level of success!