A Winning Team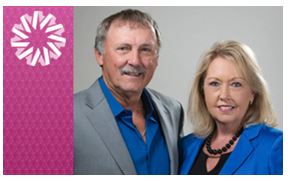 As a lifelong competitive softball player, Bud Weathers knows what it takes to win – good teamwork. And when he married Barbara, he knew he'd found the perfect teammate. "Having Barbara behind me encouraging me, working our business and pushing us both daily made the difference," Bud says.
Both the Weathers also know the value of hard work. He's been a roofer and roofing contractor for 40 years, and she's been a family service counselor and owned a cleaning service. "We decided I would no longer work outside the home once we were married," Barbara says. "Now my goal is to retire my husband from the hard work of being a roofer. I don't want to have to worry about him coming home dehydrated and cramping from the hot Texas summers."
The Game Plan for Success
"Coming into anything new one needs to learn more about whatever you are in, whether it be a new marriage, a new team or a new business," Bud advises. As they started out, he and Barbara took the time to learn how to get the most from the Opportunity, their fellow Consultants and how they could help them reach their goals. "Learn your strengths and weaknesses and adjust to reach your maximum potential," Bud says. For the Weathers, another key element was when Barbara was able to focus on their Ambit business full-time. "Our Ambit business quadrupled in a short time and we promoted to EC," Barbara says. "I remember the day we promoted I called him and said 'I just got the last two Customers.' He was so excited he came home from work early to celebrate."
Covering All the Bases
Moving forward, the Weathers hope to improve their leadership and mentoring skills. Experience has taught them that "You will never have success in the business until you become a leader," Bud says. He also believes that helping his team grow and be motivated is an essential part of taking on a leadership role. "To achieve anything you have to start it, learn it and become a leader," he says.
Smart words from someone who's a champion on the softball field and a champion for his Ambit team.
Five EC Pieces
My "Why?"
For Bud to be able to quit his construction job.
What was your single most-effective Success Tool, factor or influence for growing your business?
Having Barbara focus on selling Ambit full-time.
Name your favorite thing about AMBITION:
AMBITION is the place where dreams start for new Consultants. It's where they see the potential of Ambit and it's the most important thing you can do.
---
Featured Consultant
At Ambit Energy, we're inspired, proud, and even awed by the success stories we hear from our Consultants every day. Learn what motivates some of our top Consultants, read why they decided that Ambit was the right company at the right time, and maybe even pick up some inspiring tips to help you build your own business and achieve a similar level of success!