Ambit Brought Me Ease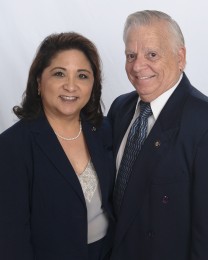 Joseph Derby has lived a life of service. His first efforts of service were to our country as Joseph received a Purple Heart for his heroics in the Vietnam War. He then worked as an Emergency Medical Technician and Fireman for the Sacramento County Fire Department for 20 years. After leaving the Fire Department, Joseph then went to work for the United States Postal Service.
After 36 years of service, Joseph realized his income was not enough to support the quality of life he wanted to provide his family. To date, his family includes five daughters and an incredible 21 grandkids!
Five years after retiring from the Post Office, Joseph had to return to work. He worked as a manager for Wal-Mart for approximately three years before finding a more fulfilling position on his church staff.

Joseph's wife, Josephine, has been working for the USPS for 31 years and looks forward to retirement soon now that she and Joe have reached their Ambit Goal of Executive Consultant.

A Trying Time
In 2010, Joseph was diagnosed with cancer. During his recovery from two life-changing surgeries, chemotherapy and treatments, he questioned how his family would live should the treatments fail. The medical expenses and time away from work challenged them financially. The ensuing housing bubble burst and difficult economic landscape forced them to leave their retirement home.

Following the AMBITION announcement this past year that a new market was opening in California, Josephine's cousin, Ed Sablan, gave them a call. Joseph was most impressed with how sensible the business plan was. Ambit was a service, not a product.
That phone call changed their life.
The timing was perfect. Josephine had been advised that the facility she worked at would be closing, and she along with hundreds of others would be looking for work.

"When I reflect on the fear, uncertainty and anxiousness of that period when I was ill, and the fears and uncertainty associated with Josie's work situation, I thought this is the perfect opportunity to do something that can change the future for all of my family," Joseph said. "The ability to create a residual income that is willable and transferable to generations of my family is a perfect solution to my financial concerns. Time is valuable to me.
"Unlike other financial opportunities, every minute I devote to building my Ambit business is an investment in the future of my family."

Results Were Amazing
Upon joining Ambit, Joseph and his wife fast tracked to regional in a day and a half, fast tracked to senior in 30 days and EC six months later.
"I knew it was a great opportunity, but the growth has been phenomenal," Joseph said. "We are so thankful for our leaders and the team we have been blessed to work with in this business. We get the opportunity to achieve our dreams while we help others to achieve theirs."
The formula was a passionate belief in the service. This included a sincere and deep smile when delivering the opportunities to others, a reason and belief in your purpose and an undeniable work ethic.

According to Joseph, the couple's greatest challenge has been keeping up with the growth.
"We are thankful, but sometimes overwhelmed," he said.
Joseph noted that he and his wife stay plugged in to all available training, conference calls and meetings in order to learn as much as they can about their business.

Through their hard work and dedication, the Derby's have grown as leaders and are proud of their transition to entrepreneurs. Prior to working their Ambit business, the corporate plan was all they knew.
"Ambit has taught us we can take control of our finances," Joseph said. "Our efforts are more than rewarded in Ambit Energy. This is the best financial vehicle available and I choose to drive it as fast and as often as I can."

Now the couple looks forward to working Ambit full time to travel to other areas as markets launch.
"We enjoy building the business together and helping others as we secure our future and future generations," Joseph said. "I find much joy building this business and I find peace in the security it will provide my family."

The Derby's plan is to help many others to reach financial freedom. They plan to be National Consultants within five years.

"My passion and zeal for Ambit is inspiring and contagious to others. This is really amazing to me," Joseph said.


My "Why":
We want to help our family and as many people as possible to create a secure financial future.

Time spent working our Ambit business:
My wife and I really enjoy building this business together. Any discretion time available to us is spent working our Ambit business. We really enjoy helping others do the same and always make ourselves available to our team.

The single most effective success tool, factor or influence for growing our business:
The most effective and successful tool has been the tools (DVD), training and support provided by our leaders and Ambit Energy. Chris and Debbie Atkinson have spared no time or expense coming to California to help us grown as leaders.

My favorite thing about AMBITION:
Having the opportunity to meet not only some great leaders in Ambit but some amazing like minded people working diligently to achieve their financial freedom goals.

Thanks to the five SCs who helped me reach EC:
Sheree & Michael Cox, Terry & Elizabeth Hull, Bobby & Athena Herrera, Ryan & Karen Carlson and Jack Clemons
---
Featured Consultant
At Ambit Energy, we're inspired, proud, and even awed by the success stories we hear from our Consultants every day. Learn what motivates some of our top Consultants, read why they decided that Ambit was the right company at the right time, and maybe even pick up some inspiring tips to help you build your own business and achieve a similar level of success!