Ambit Brought Out My Best Qualities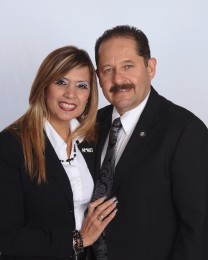 Fernando has always considered himself an entrepreneur. In fact, he has never worked for a company that he did not own. While in school in Mexico City, Fernando studied business administration. Prior to joining the Ambit family, Fernando and his wife, Norma, owned their own sign company for more than 15 years.
"One of the talents that God gave me is the power to listen to people, which allows me to help them," said Fernando. "So it is very easy to relate to everyone as I am a very positive and motivated person.
"I never lose the hope."
Despite owning his own sign company, Fernando and his family were going through a very difficult financial situation. With two daughters to support, Fernando and his wife were beginning to receive late charges as they found themselves unable to pay bills on time. Most of their monthly earnings were going to his oldest daughter's college tuition.
"We were not able to have a holiday, and I often felt lost," said Fernando. "I did not know what was going to happen to our financial situation. I'll always be grateful to my wife and daughters because they never stopped supporting me."
Ambit Changed Things
Fernando's friend Mireya invited him to see what she was able to do with Ambit to earn extra money. He initially refused, saying he did not have the time.
"It's either time or money," Mireya replied.
Immediately it clicked in Fernando's mind, and he decided to see what the Ambit Opportunity was all about.
"I saw then that she had found the project of my life," said Fernando. "I would have residual income and I thought, 'I have to be part of this.'"
What Fernando expected was the ability to pay his bills on time and to have time for his family.
"My 'Why' is my family," Fernando said. "I enjoy the good life with my family."
I Have Time to Enjoy my Family
The most difficult part of Ambit for Fernando was adjusting the perspective of the people who signed up to be Consultants.
"Some people do not believe in themselves and they are embarrassed to talk to their family and friends," said Fernando.
For Fernando, the solution has been leading by example, giving a lot of support and training and helping others gain more self-confidence while growing their business.
"We basically show them what we do and how we do it so they learn when it's their turn," added Fernando. "Repetition is the mother of all skills."
With Ambit, Fernando has now accomplished several things that he is proud of.
"First and foremost, I have time and money to enjoy with my family," said Fernando. "I also feel very good when I help my consultants to achieve their own goals. My rule is to help any consultant to reach the next level."
For Fernando, he can now see the future differently, believing he will be able to finally retire and enjoy time with his family. His Ambit business has also brought out his best qualities.
"I have discovered that I am patient, who I never considered I was," said Fernando.
Looking ahead, Fernando is working to become an NC in two years and to earn himself a yellow jacket. Another goal he has for the near future is expanding to other markets.
"I am looking forward to accomplishing many things, while using presentations and training workshops to help my team," said Fernando.
My "Why":
My family.
Time spent working our Ambit business:
Anywhere from 30-40 hours a week.
The single most effective success tool, factor or influence for growing our business:
The emails from Ambit have so much good information including training, podcast interviews and stories.
My favorite thing about AMBITION:
Going to AMBITION 2013 as an EC for the first time with one other EC from my downline.
Thanks to the five SCs who helped in the journey to become an Executive Consultant:
Maria Alicia Gonzalez, Jose Sanchez, Eliseo Trevino Hernandez, Gonzalo Andrade, and Edgar Flores
---
Featured Consultant
At Ambit Energy, we're inspired, proud, and even awed by the success stories we hear from our Consultants every day. Learn what motivates some of our top Consultants, read why they decided that Ambit was the right company at the right time, and maybe even pick up some inspiring tips to help you build your own business and achieve a similar level of success!