Ambit Changes Lives
Laura Mohr, Executive Consultant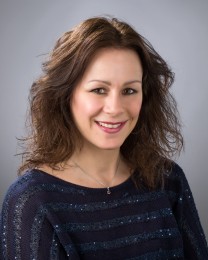 For Laura Mohr, getting laid off from the Binghamton Press after 11 years wasn't going to diminish her will to succeed. In fact, it was just the motivation she needed to get her life on the right track.

"Looking back, I am fortunate that I lost my job at the press," Laura admitted. "Now I know the sky is the limit."

Massive layoffs in the newspaper industry forced Laura to turn her career path in another direction. She decided to start her own massage business and, one fateful day, a client of Laura's introduced her to the Ambit Opportunity.
"Executive Consultant Bob Granger came in one Friday afternoon in April of 2010 and the rest is history," she said. "I went to a business presentation that night and the decision was a no-brainer."
"If it wasn't for Bob, I would not be financially free today," Laura continued. "That day was pivotal for my future."

Overcoming Obstacles
Laura has supported herself financially since the age of 17. She's also raised her 15-year old daughter on her own.
Laura's no stranger to overcoming adversity. In spite of facing some initial obstacles at the outset of her Ambit journey, Laura never wavered. She knew her hard work and dedication would pay off.
"While building my Ambit business, I struggled to balance my full-time massage business and raising my daughter by myself," Laura said. "I found time when I could to work Ambit part-time. After three years, I'm really glad I persevered because it's paying off in a miraculous way."
Persisting through those early struggles helped Laura notice attributes in herself that she hadn't recognized before, but the process didn't happen overnight.
"I have come a long way, but it took me a while," Laura noted. "I never wanted to be up in front of a crowd, but now I do presentations twice a week. If I can do this, anyone can, and I'm going to help others accomplish their dreams."
Ambit Changes Lives
After seeing firsthand the potential Ambit presents, Laura can't wait to show the Ambit Opportunity to everyone she comes into contact with.
"Before Ambit, I felt I would be struggling and working for the rest of my life," she explained. "I have the ability to take this as far as I want to, and I'm committed to helping others that are ready to help themselves do the same."
Her desire to help others doesn't stop there.
Laura's family has always come first. She's intent on not only helping her daughter to have a better life, but also to make her parents' lives as joyful as possible.
"I want to secure a future for my daughter's college and my retirement someday," Laura said. "I come from a family where my mom and dad worked hard all their lives, so I also want to be able to help them enjoy their retirement.
"It's an amazing feeling when you have that kind of positive impact on someone's life."
Thanks to Ambit, Laura now has the financial flexibility to do just that.

My "Why":
College for my daughter, retirement, financial freedom, help my parents enjoy their retirement and to help so many others succeed at their goals!
Time spent working the Ambit Business:
Five hours a week at first, but now I do it about 25 hours a week.
The single most-effective Success Tool, factor or influence for growing the Ambit business:
EC Bob Granger. I could not have done it without his leadership and mentoring.
My favorite thing about AMBITION:
Realizing the true mission and integrity of the company! My first AMBITION was in 2010 and it changed my life! I haven't missed once since.
Thanks to the five Senior Consultants who helped in the journey to becoming an Executive Consultant:
Carol Wright, Brian Salah, Mike Tumulty, James and Sharon Teague and Leigh Morrissey.
---
Featured Consultant
At Ambit Energy, we're inspired, proud, and even awed by the success stories we hear from our Consultants every day. Learn what motivates some of our top Consultants, read why they decided that Ambit was the right company at the right time, and maybe even pick up some inspiring tips to help you build your own business and achieve a similar level of success!