Ambit is a Game for David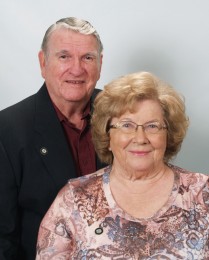 David and Ann Hutcherson have had enough career experience for two lifetimes. David started out as an Air Force Medical Technician, retiring after 15 years with the rank of Master Sergeant. From there, he went to work as a civilian employee at Fort Knox, where he met Ann, who was also in the Civil Service. After they were married, the couple and their six children from their respective previous marriages moved to a 120-acre dairy farm. The couple added a child of their own, and David retired from the Civil Service and decided it was time to go back and get a college degree.
After graduation, he went to work for the IRS, and the couple moved to South Carolina. He left the IRS, and the couple ran an import store, a satellite dish installation service and a mobile home park. The couple then moved to Corpus Christi, where they settled into a comfortable life of retirement—for about six months before starting a home construction business.
After 15 years in the homebuilding industry, the couple decided they were two old for ladders and scaffolding. They were ready for afternoons of coffee at their beach club, and quiet lazy evenings at home. That's when they met EC Leslie Hart and NC Esther Spina. David and Ann signed up a number of their rental properties with Ambit, and soon saw the advantages of being Ambit Consultants as well as Customers. "Once we started, there is no end," David says. "It just keeps getting bigger and more profitable."
"Ambit is a game for David," adds Ann. "He sees it as a challenge to succeed."
The Best Job Yet
For both Ann and David, working with Ambit has proven to be the best career they've ever had. "What a wonderful life we have at the age of 76," Ann says. "After just 21 months with Ambit, we are now Executive Consultants and on our way to someday becoming Nationals! We don't have time to let the grass grow under our feet."
With Ambit, the couple is not only able to keep earning money and ensure their own financial freedom, they're able to help secure financial independence for their children as well. Like other Ambit Consultants, they understand the inherent advantages of selling a product that everyone needs, without having to invest in costly inventory, or being subject to the whims of an up-and-down economy. Advice Based On A Lifetime Of Success
David tells his new Consultants to never give up when the going gets rough. "Each friend you meet or each Customer you talk to is another potential business opportunity," he says. "There are so many opportunities just waiting to make your business grow."
With their enthusiasm and experience, it's no wonder the Hutchersons are still winning over Customers and climbing the ladder of success at a time when others would be quietly retired. Their story is a true testament to the power of hard work, and Ambit.
Our "Why?"
To keep our lives busy and profitable doing something we like and enjoy.
Time spent working our Ambit business:
We take pride and enjoyment in scheduling our time to work our Ambit Business.
What was your single most-effective Success Tool, factor or influence for growing your business?
My most single effective success tool factor for growing my business is"Don't give up—today is another day of opportunity".
Name your favorite thing about AMBITION.
My favorite thing about AMBITION is that it is a business opportunity toreach your goals to succeed in a profitable business.
Thanks to the five SCs who helped us reach EC.
Tiffany McDaniels, Onfelia V. Polanco, Tommie Aguilar, Linda Lerouax, & Deborah Coker
---
Featured Consultant
At Ambit Energy, we're inspired, proud, and even awed by the success stories we hear from our Consultants every day. Learn what motivates some of our top Consultants, read why they decided that Ambit was the right company at the right time, and maybe even pick up some inspiring tips to help you build your own business and achieve a similar level of success!