Ambit Opened Up My Future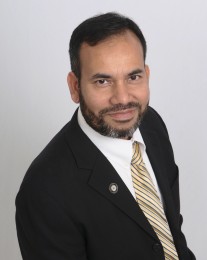 Syeda Nasreen and Syed Iqbal migrated to the United States from Bangladesh in search of a new lifestyle. Their goal was to help others who have been deprived in their own lives.
Growing up, Syed was the youngest among his brothers in a large family. After adolescence, he worked hard to get his education. Syed excelled, finishing his master's degree with honors in business from the Chittagong University of Bangladesh.
When Syed came to the U.S. after college, he was searching for a better future. He worked hard to find a job after arriving in America.
Unfortunately, he struggled with very low self-esteem due to difficulty speaking and understanding English. However, Syed's hard work and dedication led to quick promotions at the various fast food restaurants he worked for at the time.
"I got so comfortable," said Syed. "I did not want to look for any other opportunities."
Syed's wife Nasreen helped motivate him to attend Wichita State University in Kansas. He attended college part-time and received a degree in management information systems in May 2004.
Before Syed began working with Ambit, he served as an auditor and QA technician for a Fortune 500 company called Palco-LSI Inc., in Kansas.
Ambit turned my life around
In May 2010, Syed called up a friend for a business building seminar address and was rerouted to an Ambit meeting. Syed was impressed by the lucrative compensation plan and believed it was a better business opportunity.
"I've always wanted to run my own company and be my own boss, so this business was an answer to my prayers," said Syed. "I was excited about the business from the beginning."
With a student loan to pay off and very little understanding of the magnitude of the business, there was a lot of learning and changing to go through for Syed.
My future finally looks brighter
Syed feels confident that he can give his family a better home and a better future thanks to Ambit. Of course, there were many challenges and struggles along the way. There is no Ambit service or system in Syed's area of Wichita, Kansas. In fact, the closest business meeting is nearly six hours away.
"I have driven hundreds and thousands of miles to understand and learn since I did not have any systems or services available in Kansas," said Syed. "But I had made a commitment to build this business. Most weekends I would drive hours to attend the training.
"I learned a lot, including how to start my own meetings."
Syed noted that sometimes only one or two other people would show up, which made his team stronger and more determined to succeed.
"Soon my business expanded," said Syed. "More and more people caught on to the dream and started building the business with me.
"If I can do it from out of Kansas where Ambit is not in service, anybody can succeed with Ambit."
My "Why":
I have always had a great desire and passion for being an owner of my own business and to help others become successful.
Time spent working our Ambit business:
I took on my Ambit business as a means to be successful after losing my full-time job.
The single most effective success tool, factor or influence for growing our business:
The Ambit training center in Las Colinas by Bryan McClure and the support system in Power Zone have been great tools in my success.
My favorite thing about AMBITION:
Trainings, new market openings, new open state for Ambit and seeing our business grow geometrically.
Thanks to the five SCs who helped in the journey to becoming an Executive Consultant:
Syed Akram, Dr. Arief, Abdullah Al Mahmood, Syed Anam and Ruma Akter.
---
Featured Consultant
At Ambit Energy, we're inspired, proud, and even awed by the success stories we hear from our Consultants every day. Learn what motivates some of our top Consultants, read why they decided that Ambit was the right company at the right time, and maybe even pick up some inspiring tips to help you build your own business and achieve a similar level of success!