Ambit Stuck In My Mind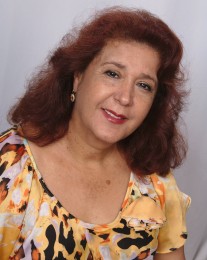 After moving from Venezuela to the United States with her two daughters, Martha Ramirez has taken a unique journey to Ambit. She tried out several different businesses before she started working in real estate.
For 13 years Martha continued her career in real estate until a co-worker reached out to her about Ambit.
"A co-worker talked to me about energy deregulation, which at the time didn't interest me at all," said Martha. "After many invitations to go to a presentation, I finally agreed to go so she would leave me alone."
Despite her initial hesitation, Martha was so excited after viewing the presentation that she couldn't help but wonder if what she heard was too good to be true.
"I could not sleep for two nights," said Martha.
A few days later, Martha asked her co-worker what she needed to do to join Ambit.
The Ambit Opportunity was stuck in her mind.
With a family of her own, Ambit had the potential to be the financial freedom she'd been looking for since moving to the United States.
A Popular Choice
Martha hit the ground running early on with Ambit. In less than two months, Martha promoted to Senior Consultant. She couldn't help but tell everyone she knew about Ambit, and had no problem getting numerous people on board.
Unfortunately, Martha was forced to take a break from her Ambit business due to an illness.
"I was always checking how my business was and I wondered when I was going to be able to go back to work on my business," said Martha.
Before long she started receiving residual income, which lit a fire inside Martha. For Martha, a secure future was something she'd only hoped to achieve before joining the Ambit team.
"That is why I am still in love with Ambit," said Martha, "because I am building my retirement."
Expanding My Ambit
So far, Martha's biggest accomplishment has been becoming an Executive Consultant. Along the way, she has taken pride in helping many others to be successful as well.
"I see my dream of helping women to be financially free is getting closer," said Martha.
Through her business at Ambit, Martha has developed the patience to help others grow their own skills. She now recognizes that each and every member on her team is different. Each person has their own talents and virtues that help make their business successful.
Looking ahead, Martha is excited to continue to work her Ambit business, while also continuing to grow as a person. She has also learned the importance of staying focused and being disciplined.
"Each 'No' gets us closer to a 'Yes,'" said Martha.
Now that she's learned how beneficial Ambit can be, Martha is looking forward to sharing the Opportunity even further.
"I want to expand my Ambit business to other states," said Martha, "and let people know about this opportunity wherever they are."
For Martha, Ambit has meant financial freedom and security for the future.
"I have always been successful in my businesses," said Martha. "That is why I tell myself that this is a challenge. I am being successful at it because I am persevering in my job."

My "Why":
Have the retirement of a millionaire.
Time spent working our Ambit business:
Minimum of 50 hours per week, but since it is my business, I work on it at any time I can.
The single most effective success tool, factor or influence for growing our business:
Not being afraid to offer the Ambit Opportunity. Understanding that offering it dignifies me and understanding that I am the owner of a millionaire business and that I can achieve anything I want.
My favorite thing about AMBITION:
AMBITION is a unique thing that transmits an injection of success, prosperity and the desire to succeed. For me, this is like a booster that you give your car so it can run.
Thanks to the five SCs who helped me reach EC:
Patricia Mahecha, Luz Stella Bentacur, Sara Rivera, Maybetty Calvo and Alejandro Morales.
---
Featured Consultant
At Ambit Energy, we're inspired, proud, and even awed by the success stories we hear from our Consultants every day. Learn what motivates some of our top Consultants, read why they decided that Ambit was the right company at the right time, and maybe even pick up some inspiring tips to help you build your own business and achieve a similar level of success!