An Agent On Her Own Behalf
Nghi Ly, Executive Consultant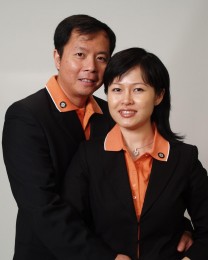 In the eight years since she came to the US from Austria, Nghi Ly already built a successful career as an insurance agent in Arlington, Texas. With this experience, she developed her passion for working with people and sales. And, as an insurance agent, she was especially interested in selling products that helped make her customers' lives better. So she was interested when a friend showed her how Ambit could help people save on their electric bill.
"The first time I heard about this opportunity, I knew it was for me," Nghi says. "I think I may have had to work harder than others to build my team since I had no experience in this, but I got better day by day."
In fact, Nghi got so good at running her Ambit business that she became a Regional Consultant in less than a month, and a Senior Consultant in just three months.
Insuring A Successful Future
Last year, Ambit passed Nghi's insurance business as her primary source of income. And she has big plans for the future. "I plan to expand into new markets in other communities," she says, "I am going to make my Consultant training more intensive and use my success as motivation."
While Nghi emphasizes the role of hard work in her own success, she also likes the fact you're never in Ambit alone. "This business depends not only on you, but on others as well. If I can do it, my downline can do it. And because of that my business will surely grow. That's why I put so much effort into helping my downline."
The payoff? Nghi's team consistently reaches their first month bonuses, helping build their confidence and motivating them to continue to achieve at a high level.
Advice For Others
"If you don't give up and work hard, you will succeed in this business," Nghi says. For her, this often means taking extra time to work with Customers who are not fluent in English and require extra help with forms and third-party verification. "I have to babysit each of them," she says. It's time-consuming, but an essential service. She also recommends attending AMBITION. "It's a very powerful source of motivation, being around so many successful people."
After all, one of the successful people you run into might be Nghgi Ly. And that should be pretty motivating for anyone.
Our "Why?"
Residual Income
Time spent working our Ambit business:
Helping customers who aren't fluent in English is time consuming, but essential.
What was your single most-effective Success Tool, factor or influence for growing your business?
My reputation and my existing business.
Name your favorite thing about AMBITION.
Motivation
Thanks to the five SCs who help me reach EC:
Thanh Nguyen, Cindy Le, Ha Nguyen, Thy Bui, Quan Pham
---
Featured Consultant
At Ambit Energy, we're inspired, proud, and even awed by the success stories we hear from our Consultants every day. Learn what motivates some of our top Consultants, read why they decided that Ambit was the right company at the right time, and maybe even pick up some inspiring tips to help you build your own business and achieve a similar level of success!