An American Success Story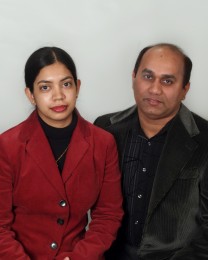 Ghulam and Nasrin Murshed were already a classic American success story before they joined the Ambit team. Ghulam was the youngest of 11 children, and came to the U.S. from Bangladesh in search of a better education and opportunity. He worked hard, and eventually he and his wife Nasrin became the owners of a successful grocery business in Texas. "I have faced many challenges while starting my business," he says. "I struggled many times, and learned from both my good decisions and my bad decisions. Now I am the owner of a busy, successful store."For the Mursheds, America had proven to be a land of opportunity. And Ghulam was ready to seize his chance when he learned about Ambit.
An opportunity to do more than make money
The Murshed's grocery business was more than a full-time job, with the challenges of managing employees, stock, vendors and taking care of customers. While Ghulam knew his brother had achieved success with Ambit, he didn't feel he had the time or energy to get involved in another business. Finally, the two brothers had a long talk. "My elder brother EC Mahbub Hossain explained to me that he needed to expand his Ambit business. He told me I could not only make money, I could help my customers and vendors save money." For Ghulam, the idea of helping people was more appealing than the idea of making extra money. "I know how hard it is to sell products, but when I saw this as helping people, not selling, I decided to join." Working with his brothers Kibria and Shoukat, as well as Executive Consultant Mahbub Hossain, Ghulam became an executive consultant within 16 months.
Achieving success again, with Ambit
Like many Ambit Consultants, Ghulam's goals were simple at first. "I wanted to qualify for free electricity and make a few hundred dollars, and help my other family members and close friends." However, as he developed his sales ability and his business started to grow, he saw more and more potential with Ambit. "I used the credibility of my upline with three-way calls, used the magazine and flyers. My family and friends saw the savings and bonus checks, and they joined in."As with his store, Ghulam found that hard work upfront paid off later. "My Executive Consultant Mahbub Hossain said that doing something every day will lead to big results and that's what happened. I plan to slow down my store business and put in more time with my family and with Ambit. I am looking to expand the business out of Texas and bring new MCs to the local meetings."
Onward and upward with Ambit
Ghulam advises new Consultants to be passionate and excited about their opportunity, and to have a dream backed by an action plan, and to never give up. "I face new challenges all the time and I learned that with challenges, comes growth. So now I accept more challenges and grow more wisdom." It's wise advice from a husband and wife who have achieved the American dream of owning and running a successful business not once, but twice.
My "Why?"
Get out of the stress of making money and have more time with my wife Nasrin, my son Zarif, and my daughter Zarin.
Time spent working Ambit
I work 10 to 15 hours a week.
Most-effective Success Tool, factor or influence for growing the Ambit business.
I got lot of support from my two brothers SC Ghulam Kibria and SC Shoukat Hossain. Direct mentorship with my upline, an extraordinary leader, EC Mahbub Hossain.
Favorite thing about AMBITION.
Recognition of all new promotions, training, & new market announcements.
Thanks to the five Senior Consultants who helped us become an EC.
Zahed Moushumi , Ghulam Kibria, Shoukat Hossain , Zia Khan, Jesmin Arephin
---
Featured Consultant
At Ambit Energy, we're inspired, proud, and even awed by the success stories we hear from our Consultants every day. Learn what motivates some of our top Consultants, read why they decided that Ambit was the right company at the right time, and maybe even pick up some inspiring tips to help you build your own business and achieve a similar level of success!