An Economic Expert, Building Success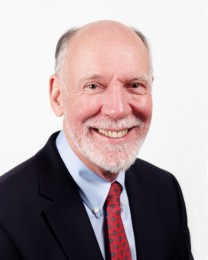 He may live thousands of miles from his team and customers, but he's still taking advantage of the "huge" opportunity with Ambit.
Although he's been entrepreneurial since he was 12, there are two reasons that Executive Consultant Thomas O'Grady's journey has been unique
For one, his professional career has taken him from becoming the top analyst in Soviet intelligence for a US Agency to earning a Ph.D. in Mathematical and Statistical Economics at the University of California at Berkeley to positions with Fortune 100 companies to building three companies of his own.
And the second reason: Thomas has built his Ambit organization from his home in Washington State, which "is two thousand miles from my nearest customer."
A REMARKABLE CAREER
Before his doctorate, Thomas garnered nominations for the prestigious Danforth, Rotary and Rhodes Scholarships at Hofstra University and served as faculty representative to the Board of Trustees.
Before Hofstra, Thomas spent time in Soviet intelligence inside a U.S. agency. He "broke three Soviet codes while in charge of Russian analysis." For his service, he was awarded the Meritorious Service Medal bestowed upon recipients such as General Wesley Clark, Senator John McCain and General Norman Schwarzkopf, Jr.
After his PhD, Thomas held positions at General Motors, and headed the automotive division in Chase Bank. He built three companies. During this time, he was quoted by the print media over 30,000 times and appeared on TV and radio over 300 times. Microsoft brought him in to teach their developers data warehousing and database programming. Later, they hired him to solve corporate problems for them that he previously did for other companies.
THE SEARCH THAT LED TO AMBIT
With all of his professional success, Thomas came to an important realization a couple years ago.
"My mother lived into her 90s," says Thomas. "And knowing that you have good genes is great news. But realizing that no matter how well you did financially, you might run out of money – that's scary."
"Thinking that I could live another 40 or 50 years, I decided that I'd better look for ongoing income and investments. And I spent time investigating many opportunities."
Then, a friend –who knew that Thomas "could not be pushed" – asked him to look at Ambit when he had some time.
"I took a comprehensive look at Ambit. I did research just as I did for other companies as if I might invest into it. The network marketing aspect concerned me, but the analysis was overwhelmingly favorable."
Clearly, the research indicated that Ambit was the best opportunity.
In the beginning, it was tough. "My family wouldn't even talk about it," he says. "And I knew almost nobody in the territories in which Ambit was operating at the time."
Although he expected it to be slow because of the distance, Thomas' analysis said, "the opportunity is so huge that it can't be ignored." He said, "it wasn't can I, but rather how?"
"I wanted to get near the EC level as the Pennsylvania market was getting ready to open, so I traveled to the East Coast about once a month, spending 2 - 4 days in the New York territory."
On January 1, 2011, Thomas had one SC in his SC code – but decided that it was time to really "push it." With the Pennsylvania territory opening soon, he then began spending at least three weeks each month in the area. On May 6th, Thomas woke up to see a message on his phone that his fifth SC had promoted.
PERSEVERANCE LEADS TO SUCCESS"I always knew that by persevering, I'd get to EC," Thomas says. "My wife always expected it –her support is what truly matters."
"The business is totally worth the perseverance. There is too much money on the table."
Thomas gives credit to his team for his success. "I'm pleased to see my team succeed, because it's all about your team – nobody can succeed without them."
They've not only contributed to his success, but they also show support in other ways: "It's wonderful getting so many congratulatory notes and calls from my team, and even people outside my organization!"
They've not only contributed to his success, but they also show support in other ways: "It's wonderful getting so many congratulatory notes and calls from my team, and even people outside my organization!"
WORDS OF WISDOM
As someone who has shown such great determination in building his business – despite the obstacles – Thomas has plenty of good advice for new Consultants.
"Don't treat it like a hobby, this is a business," he says. "If you treat it like a business, it will reward you. You need to persevere, because you'll have tough times and great times."
He advises people to "look at The Opportunity, assess it like any business analysis, and then absolutely push your way through any impediments. It is worth it. This is a great opportunity which happens to use network marketing."
"It's not a get-rich-quick scheme. It's a solid business model that will grow like compound interest."
A final piece of advice: "Find a mentor and become a sponge. Copy exactly what you are told and what you hear them doing – don't reinvent or change a successful system!"
ABOUT AMBITION
When it comes to the biggest event of the year, Thomas "absolutely" recommends that Consultants head to AMBITION.
"It's not only the training," he says. "You'll meet people, learn their stories, and meet the company personnel and owners."
"All of the training and events will give you the spirit, energy and knowledge to succeed and promote yourselves."
---
Featured Consultant
At Ambit Energy, we're inspired, proud, and even awed by the success stories we hear from our Consultants every day. Learn what motivates some of our top Consultants, read why they decided that Ambit was the right company at the right time, and maybe even pick up some inspiring tips to help you build your own business and achieve a similar level of success!