An Electrifying Opportunity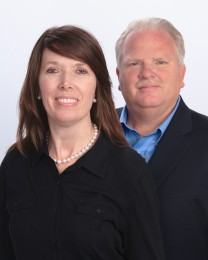 Randy Cox knows the power industry. He holds an engineering degree in electrical power distribution, and worked for other power companies in North Texas for 24 years, gaining experience in engineering, marketing and sales. He eventually left his job to join his wife Shelley, a Certified Graduate Master Builder, to run a custom home building company and operate a storage facility.
"After leaving the corporate world and becoming totally self-employed, we needed additional income to maintain our current lifestyle and send our three children to college. And we couldn't take on another full-time job."
That's when a former co-worker and friend, Steve Miller, fellow Executive Consultant, introduced Randy and Shelley to Ambit. After attending a number of presentations, Randy and Shelley decided to join the Ambit team. He says "When we heard the testimonies of Jere and Chris at AMBITION, we knew we had made the right decision. Their testimony of faith and commitment created the desire to grow our business."
Empowered To Succeed
Randy began by setting reasonable goals. "If we made enough to make a car payment we could consider that a success," he says. "That came soon, and it motivated us to do more." They got used to hearing "no," and used that as inspiration to try harder. They worked the system the way they had been taught, and coordinated with their team members and Consultants on a daily basis.
And their Ambit business continued to grow. "We were able to pay for our children's college tuitions without any student loans," Randy says. "And we will be able to give back to others sooner than we expected."
By investing a little time and effort in Ambit every day, Randy and Shelley have been able to create residual income that will allow them to spend a lot of time with their family.
Enlightening Advice
Randy has some suggestions for Consultants who are working on achieving EC status. "Don't get discouraged. Do a little each day and never sacrifice honesty to be successful. Work with your team members and be an accountability partner."
As they move forward, Randy and Shelley hope to move into new markets and use their experience to help others achieve success.
For them, the lessons and benefits of Ambit are clear.
"With Ambit, ordinary people can do extraordinary things."
Our "Why?"
Create residual income that will allow us the time to spend with our family.
Time spent working the Ambit business:
A little everyday.
What was your single most-effective Success Tool, factor or influence for growing your business?
The team concept.
Name your favorite thing about AMBITION:
That ordinary people can do extraordinary things
Thanks to the five SCs who helped in the journey to becoming an Executive Consultant:
Cody Cox, Lukas Moffett, Dennis Smart, Kathleen Scott, and Jacqueline Riddell
---
Featured Consultant
At Ambit Energy, we're inspired, proud, and even awed by the success stories we hear from our Consultants every day. Learn what motivates some of our top Consultants, read why they decided that Ambit was the right company at the right time, and maybe even pick up some inspiring tips to help you build your own business and achieve a similar level of success!